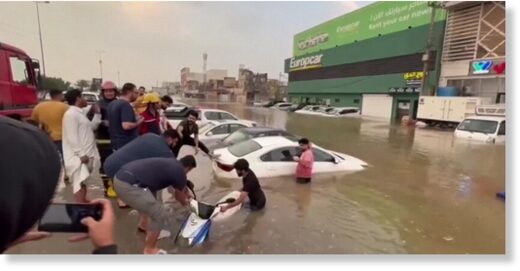 Weather conditions in different Iraqi governorates where heavy and continuous rainfall since early hours of Sunday disrupted life in Iraq.
Due to expectations that rainfalls will continue, the Iraqi government announced, late on Sunday night, the suspension of work on Monday in all governorates.
The General Secretariat of the Council of Ministers mentioned in a statement that the Prime Minister, Mohammed Shia Al-Sudani, directed to suspend official working hours on Monday, due to weather conditions, except for security and service institutions.
The governorates of Dhi Qar, Najaf, Babylon, Anbar, Diwaniyah, Wasit, Maysan and Salah Al-Din announced earlier on Sunday the suspension of work due to the heavy rains.
Videos and pictures of torrential rains and floods that hit Iraqi cities including the capital, Baghdad, went viral on social media.
According to the Iraqi Meteorological Authority, rains are expected to continue on Monday.
Iraqi citizens criticize poor drainage systems and the worn out infrastructure, which, according to them, increase the risk of torrential rains and floods.