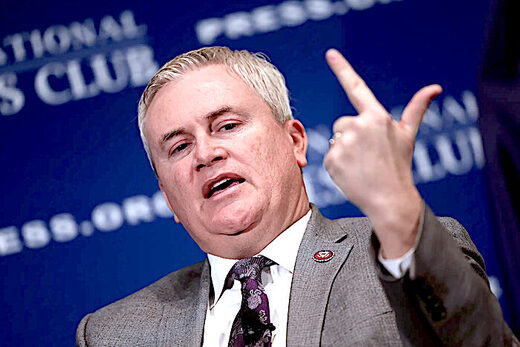 House Oversight Committee Chairman James Comer believes that more than half a dozen members of the Biden clan may have been involved in various worldwide business schemes that profited off their family name.
Comer, whose committee is investigating the Biden family's business dealings
, shared the insight in a Wednesday night interview with Fox News host Laura Ingraham.
Referring to his panel's far-reaching probe, Comer (R-KY) said:
"At the end of this I think we're gonna see there are probably six or seven Biden family members that were involved in various business schemes around the world."
Comer didn't mention any names in the interview and
declined to reveal
the identity of the unnamed Biden family member
who got proceeds from a $3 million wire to Hunter Biden associate John "Rob" Walker just weeks after Joe Biden left the vice presidency in 2017.
The Oversight Committee chairman first revealed on Monday that
bank records obtained via subpoena implicate three Bidens, including one that's "never before been identified"
as being involved in the family's alleged influence-peddling operation.
Comer told Ingraham that it remains unclear what the $3 million transaction was for.
"So this just shows how deep the Biden family was involved in this influence peddling scheme. It looks to me like these people, who are closely aligned with the Chinese Communist Party, sent $3 million to a shell corporation then they turned around and split it three ways with a third going to the Biden family - three different family members for no apparent reason. They didn't invest it in a business. They just, it appears, stuck it in their pocket. There's no explanation for why the Bidens have received this much money from our adversaries around the world."
Comer also revealed during the interview that his committee is "on the hunt for about a dozen more" similar shady wire transfers.
House Oversight Committee staff are
currently in the process of reviewing
more than 150 suspicious activity reports sent by banks to the Treasury Department alerting of potential criminal activity involving the Biden family.
A spokeswoman for the panel told
The Post
, using a Latin phrase referring to a private review:
"Oversight Committee staff will begin reviewing suspicious activity reports in camera at the Treasury Department Wednesday afternoon."
The Treasury Department
granted the oversight panel access
to the suspicious activity reports on Monday after reportedly attempting to stonewall the committee.
Republicans argue that the Biden family's international business deals
create conflicts of interest for the commander-in-chief and may even demonstrate corruption.