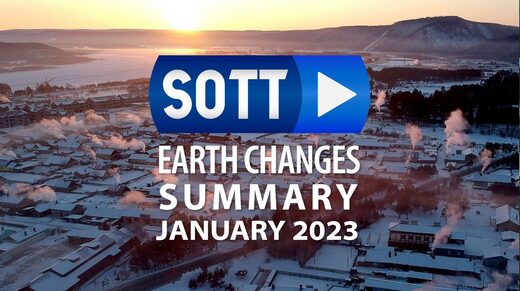 The start of 2023 has been marked by heavy snow, unseasonably cold temperatures, and wetter-than-expected weather for the season. All this while the manufactured food and energy crisis continues to deepen in the West, thanks to the deluded globalist psychopaths.
Extreme weather hit California pretty hard this month: A bomb cyclone, severe flooding, mudslides, power outages, walls of snow in Soda Spring, and a magnitude 4.2 earthquake with an epicenter in offshore Malibu.
Denver, Colorado, saw 13 inches of snow this month, making it the
15th snowiest January on record
. Jackson County registered -5°C, and the Purgatory ski resort recorded 23 inches of snow in 24 hours.
Northern Arizona got more than two feet of snow in 48 hours. It was the 25th largest snow event and
broke the single-day snowfall record on Sunday.
Nevada was hit by winter storms that brought heavy rain, high winds, and significant snowfall at higher elevations. Las Vegas desert was also covered in white, a strange sight for the area.
More than 41 inches of snow fell at Sundance Mountain Resort in Utah, forcing a closure due to extreme weather conditions. The resort also recorded nearly 8 inches of rain.
Heavy snow also disrupted normal life in Italy, Austria, Slovenia, Croatia, and Mallorca.
Mallorca was covered by its largest snowfall in more than five years.
China's northernmost city, Mohe, was hit by
an all-time record of -53°C, the lowest ever recorded.
The local officials worked overtime to ensure heating and water services. This comes days after temperatures plunged to -50°C in Russia's Yakutsk.
Central Asia also suffered a harsh January. In Kyrgyzstan, Tajikistan, Uzbekistan, and Turkmenistan recorded unusual levels of snow, that collapsed power poles and trees, blocked main roads, and burst water pipes.
The
temperatures in Kazakhstan reached a chilling -30°C.
The Middle East was also caught off guard by colder-than-usual temperatures and snow. Tens of thousands of Iranians were left without gas amid snow and freezing conditions,
and Afghanistan temperatures plummeted as low as -33°C,
combined with widespread snowfall, freezing gusts, and regular power outages. At least 166 people died due to the cold wave.
Ex-Tropical Cyclone Ellie continued to batter northern Australia this month. Heavy rain turned roads into rivers, thousands of cattle got lost or died, and boats were the only form of transportation in some counties. Western Australia was also hit hard by heavy rain and floods. 38 homes and 37 businesses were destroyed, with an additional 121 homes damaged. In some cases, the damage is so severe that will require long-term rebuilding efforts. The floods have also caused significant damage to infrastructure and transportation routes.
New Zealand's largest city declared a state of emergency after torrential rains caused widespread flooding and evacuations. Heavy floods washed away houses, blocked roads, and knocked out power.
The city received 75% of its usual summer rainfall in just 15 hours.
Latvia experienced its worst flooding since 1981, forcing residents of central areas to evacuate their homes.
Meanwhile, large chunks of ice that drifted from Belkarus caused the water level to rise, while also putting pressure on a new dam.
Other noteworthy events this month:
Sumatra, Indonesia: Heavy flooding leaves 3 dead and 15,000 homes damaged
Johor and Pahang, Malaysia: More than 4,000 were displaced by flooding caused by 17 inches of rain in 24 hours
North Sulawesi, Indonesia: Nearly 18 inches of rain in 48 hours left 3-meter floods in some areas.
Zambia - Non-stop rains caused catastrophic flooding in southern and central provinces.
And things start to get rocky! A 5.9 Mag earthquake struck northwestern Iran, killing at least seven people and injuring 440.
All this and more in our SOTT Earth Changes Summary for January 2023:
Or watch on
Odysee.
To understand what's going on, check out our book explaining how all these events are part of a natural climate shift, and why it is taking place now:
Earth Changes and the Human-Cosmic Connection
Check out previous installments in this series - now translated into multiple languages - and more videos from SOTT Media
here
,
here
, or
here
.