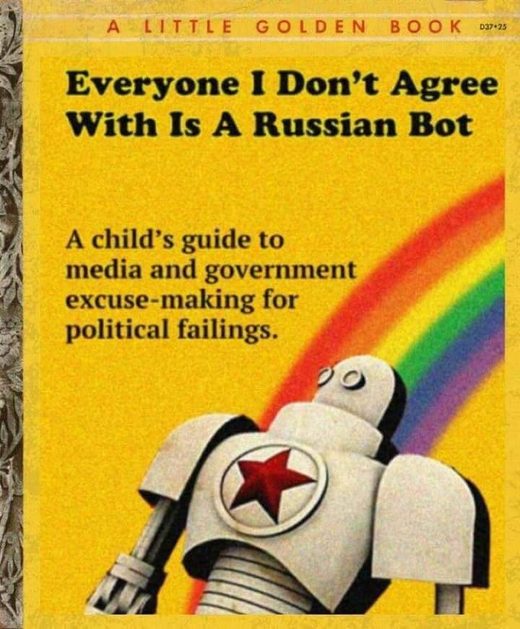 Hamilton68's operations were the biggest journalism scam in a long time, the billionaire said
Elon Musk has hit out at the Alliance for Securing Democracy (ASD) and its so-called "Russian bot dashboard" Hamilton68 for labeling Twitter accounts that it disagreed with as assets supposedly linked to the Kremlin.
The billionaire illustrated his point with a mockup of a children's book on justifying political failures in the media and government, titled 'Everyone I don't agree with is a Russian Bot'.
His response comes after internal Twitter messages published by journalist Matt Taibbi on Friday revealed that the Hamilton68 dashboard knowingly mislabeled the accounts of real Americans as "Russian Bots."
The creators of the tool at one point claimed to be tracking over 600 accounts with alleged ties to the Kremlin to provide the West with an authentic view on Russian "influence operations." Hamilton68 was later used as a source by numerous major Western media outlets and even academic publications to claim that Russian bots were pushing conspiracy theories and promoting terms like "deep state" as well as hashtags such as #ReleaseTheMemo, #SchumerShutdown, #AlabamaSenateRace, and #ParklandShooting.
However, the latest Twitter Files have revealed that the social media platform's employees analyzed Hamilton68's list of supposed "Russian bots," only to find that these accounts were "neither strongly Russian nor strongly bots" and primarily consisted of real people living in the US, Canada, and the UK.
"It was a scam. Instead of tracking how 'Russia' influenced American attitudes, Hamilton 68 simply collected a handful of mostly real, mostly American accounts, and described their organic conversations as Russian scheming," wrote Taibbi.
The ASD has since attempted to defend its dashboard, claiming it was not meant as a list of Moscow-backed opinion leaders, but was a "nuanced" tool that was misunderstood by journalists. However, the committee's own members have previously been on record as claiming that the Hamilton68 list included accounts used by Moscow to "discredit the FBI... attack ABC news... critique the Obama administration... and warn about violence by immigrants."
"This is the biggest journalism scam in a very long time,"
replied Musk, who criticized the ASD's attempts to shrug off any responsibility as a "disingenuous response."