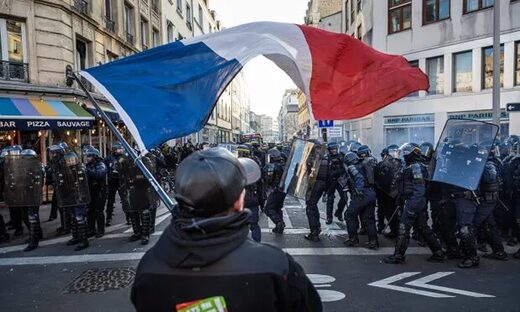 Doctors had to amputate the testicle of a young man who got clubbed in the groin by a police officer during demonstrations in Paris last week, according the man's lawyer.
Images and footage from Thursday's demonstrations circulating online show a policeman hitting a man on the ground between the legs, and then leaving. The man is seen holding a camera.
The incident occurred during a surge of violence at
a mostly peaceful march
attended by tens of thousands of people opposed to the government's plan to raise the age of retirement. About 1 million people marched in cities across France on Thursday.
The 26-year-old, identified in the French press as an engineer, said he was knocked to the ground, allegedly by an officer, while taking photos during a confrontation between demonstrators and police. Another officer charged at him and allegedly planted his club in the man's groin.

Comment: 'Allegedly' - here's the footage to prove it:



Lawyer Lucie Simon said she was filing a complaint on behalf of her client for "voluntary violence that led to mutilation by a person vested with public authority".
"It was such a strong blow that he had to have a testicle amputated," she said, adding that the engineer was still in hospital.
"This is not a case of self-defence or necessity.

The proof is in the images we have and the fact that he was then not arrested."
The engineer, who lives on the French Caribbean island of Guadeloupe, "is still in shock and keeps asking why" he was wounded, the lawyer added.
Paris Police Chief Laurent Nunez ordered an inquiry into the exact circumstances of the incident as outrage grew over what appeared to be a case of
excessive force from French police, a longstanding complaint
.
The man told the
Libération
newspaper he was suing "so that this stops, because
I'm not the first person to be subjected to violence by police."
Government spokesperson Olivier Veran told a local broadcaster that he felt "empathy" for the young man.
But he stressed "the need to understand the conditions in which this intervention occurred".
The interior ministry said 80,000 people marched in Paris on Thursday, as part of nationwide protests against President Emmanuel Macron's plan to extend the retirement age from 62 to 64.
The hard-left CGT union
however said

it counted 400,000 protesters in the French capital
.
Comment:
If there were even 200,000 in the capital, it's likely that there were much more than a million protesters who gathered across the
whole
of France. This tactic of attempting to downplay how popular these protests are has become increasingly common by the authorities; in Spain just a few days ago, government figures claimed just 30,000 people were protesting in the Capital, Madrid, whilst more reasonable figures
estimate
well over 100,000.
Further, the propaganda-media consistently try to paint protesters as 'hard left' or 'far right', despite these strikes involving a variety of professionals and industries, including lawyers, truckers, farmers, and doctors.
French law enforcement agencies have long been peppered with excessive use of force complaints.
Police unions contend their members often are the victims of violence committed by some people they are meant to protect.
Comment:
These 'complaints' have the backing of doctors who, during the two-year long Yellow Vest protests - that notably only really stopped because of the lockdowns - said that the
serious
injuries protesters sustained - that include the loss of limbs - were unprecedented.
The 2020 beating and clubbing by three police officers of a Black music producer, Michel Zecler, as he left his Paris studio was a catalyst for limited reforms. The most recent change was the appointment last year of a magistrate to head a unit that investigates allegations of police abuse. Police officers previously led the unit.
French President Emmanuel Macron ordered changes in 2021, saying that "we have nothing to fear from greater transparency."
That same year,
French lawmakers passed a "global security" law reinforcing certain law enforcement powers
. The most controversial article, which initially limited video or other images of security officers, was watered down to make it a crime to identify security officers "with the manifest goal of attacking their physical or psychological integrity."