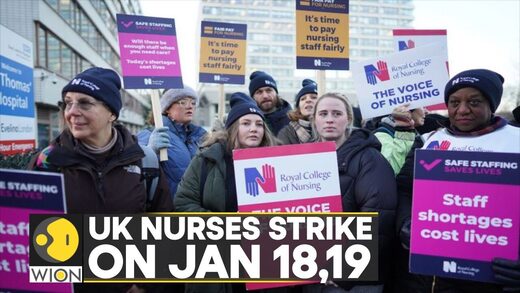 From hero to zero, and claps don't pay the bills: some of the chants by nurses here and across the country on strike again in a dispute with the government over pay and patient safety. Emma has been a nurse for more than three decades: For a long time we felt... nothing else is working.
The reason behind that is
more than 10 years of underfunding and neglect by the government
.

Comment: True, but even prior to that consecutive governments, including Labour, were dismantling the NHS through Public-Private Initiatives.


Across the country, the Health Service is facing what has been described as intolerable and unbearable strain from a combination of the seasonal flu, Covid and staff shortages with some patients having to wait more than 24 hours for a bed.

Comment: With staff shortages, any influx of patients will be unmanageable. One wonders just how many staff were lost to the threats of vaccine mandates?


That plus
a record seven million patients on the NHS waiting list, described as a national scandal
.
The Royal College of Nursing, the union that represents nurses asked for a 19 percent pay rise when they first went on strike last year but has since cut that in half, offering the government an olive branch. But a deal is yet to be reached. The Health Secretary James Clerverly says the strikes put patients' lives at risk.
Last week, the government introduced a so-called minimum service levels bill to parliament, making it possible for employers to sue unions and fire employees, including health care workers, if they refuse to work on strike days.
Rather than talking about a pay negotiation...on a normal NHS day?
Britain has been hit by months of public sector from rail to mail all of whom say they are in for the long haul.
In the weeks ahead more strikes are planned by nurses, paramedics and ambulance drivers.
Members of the Royal College of Nursing have announced more strikes next month warning it will be their biggest walkout yet if pay talks with the Government do not progress soon.