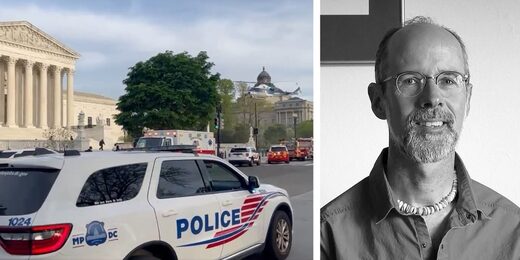 A climate activist by the name of Wynn Bruce has died after he set himself on fire outside of the Supreme Court in Washington, DC, on Earth Day.
According to
Fox News
, the 50-year-old man set himself on fire outside the nation's highest court on Friday, which corresponded with Earth Day.
On Saturday, Bruce was pronounced deceased.
Emergency medical crews were called to the area at around 6:30 pm on Friday, with Bruce being rushed to the hospital by medical helicopter.
US Capitol Police said on social media Friday that the medical emergency near the Capitol was not "a public safety issue." The incident occurred the same day as a shooting in Northwest Washington, DC, which saw four injured after a gunman opened fire near the University of the District of Columbia's campus.
According to the
New York Post
, a Facebook
page
belonging to a man by the name of Wynn Bruce said that he was a Buddhist and a climate activist.
Last year, the Facebook account began posting messages seemingly alluding to the date of his death, "4/22/2022," which included the fire emoji.
The Supreme Court Police is reportedly still investigating the Colorado man's motive for self-immolation. No other injuries were reported in the incident.
Speaking in regards to the matter, DC's Extinction Rebellion chapter, a group of climate activists that held
protests at DC's city hall that day
, said on Twitter: "Is it too much to tell the world why this man set himself on fire? He died to raise the alarm on the climate and ecological crisis."
A Buddhist priest who allegedly knew Bruce wrote,
"This guy was my friend. He meditated with our sangha. This act is not suicide. This is a deeply fearless act of compassion to bring attention to climate crisis. We are piecing together info but he had been planning it for atleast one year. #wynnbruce I am so moved."