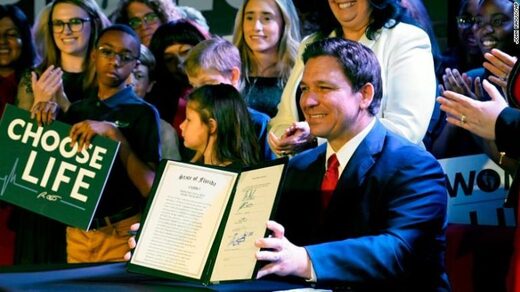 Florida becomes the most recent red-run state to limit abortion access.
Florida Gov. Ron DeSantis on Thursday signed into law a measure that bans abortions after 15 weeks of pregnancy.
The measure will go into effect on July 1 without no exceptions for pregnancies as the result of rape, incest or human trafficking. However, it allows for cases in which the pregnancy is a "serious risk" to the mother or if a fatal fetal abnormality is detected and confirmed by two physicians.
The state's GOP-led Senate passed the bill March 15.
"We are here today to defend those who can't defend themselves. This will represent the most significant protections for life that we have seen in a generation," DeSantis said at the signing.
With the signing, Florida becomes the most recent Republican-led state to pass a 15-week abortion bill this legislative session. DeSantis's signature immediately follows the Kentucky legislature's Wednesday override of Democrat Gov. Andy Beshear's veto of a similar abortion bill.
On Tuesday, Oklahoma GOP Gov. Kevin Stitt signed a bill making abortion entirely illegal in the state, except in the case of medical emergency.
Florida previously allowed abortion through the second trimester of a pregnancy. Abortion rights advocates say that many woman in the southern U.S. travel to Florida to obtain abortions that are not available in their home states.
Red states have been passing restrictive abortion laws in anticipation of a forthcoming Supreme Court decision that is expected to weaken or overturn completely the landmark 1973 Roe v. Wade case that legalized abortion at a national level.