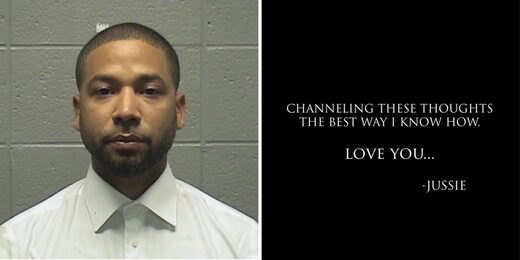 Convicted hate hoaxer
Jussie Smollett,
recently released from jail
, made a new song called "Thank You God," in which he still steadfastly claims he's innocent.
Smollett posted a lyrical music video of the
single
to Instagram on Friday. The one-minute and 40-second video is prefaced with a message signed by Smollett stating he's "channeling these thoughts the best way I know how. Love you."
"It's like they're hell-bent on not solving the crime, taking out the
elements of race
and trans and homophobia that's straight taking lives, but turn around and act like I'm the one that killed the strides," Smollett sang on the track.
Part of the rap was spent pushing back on critics who doubt Smollett's story. "Some people searching for fame, some people chasing that clout," Smollett rapped. "Just remember this. ... This ain't that situation. You think I'm stupid enough to kill my reputation?" Smollett questioned in the
song now streaming
on platforms Spotify, Amazon Music, Apple Music, iTunes, and TIDAL.
"Just simply to look like a victim like it's something fun," Smollett continued to manintain. "Y'all better look at someone else. You got the wrong one."
Smollett said 100 percent of the profits will be donated to the Rainbow PUSH Coalition (RPC), the Illinois Innocence Project, and the Secure The Bag Safety.
After the former
Empire
actor was
sentenced to 150 days in jail
for carrying out the sensational hate crime hoax, the disgraced celebrity was released in mid-March on $150,000 bond while awaiting an appeal of his conviction.
Empire
co-star Taraji P. Henson compared Smollett's case to that of lynching victim Emmettt Till in
an Instagram post
with the hashtag "#FreeJussie."
"I am not here to debate you on his innocence," Henson wrote in the Instagram post, following Smollett's sentencing hearing. "But we can agree that the punishment does not fit the crime. Emmett Till was brutally beat and ultimately murdered because of a lie, and none of the people involved with his demise spent one day in jail, even after Carolyn Bryant admitted that her claims were false."