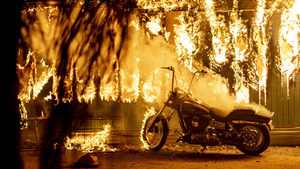 The Woolsey Fire in Malibu, California, November 10, 2018
He who passively accepts evil is as much involved in it as he who helps to perpetrate it. He who accepts evil without protesting against it is really cooperating with it.
- Martin Luther King, Jr.
Recent Comments
WELL, I DON'T THINK ANYONE SHOULD EVER TYPE ANYTHING ALL CAPS BECAUSE IT READS LIKE THE WORDS WERE SHOUTED. SO THERE . . .
---
The time scale used is fiction, scientifically speaking. Ice age is triggered by epsiloid orbit around the sun, periodically at a known interval....
---
Breast milk and nothing else. If you do feed that chemical waste to a child you are harming your child and therefore a bad parent.
---
Karma is real. In God's world it is 'you reap what you sow' which means that whatever you have intended for another will come back on you. It's a...
---
Allez les jaunes, allez les jaunes....