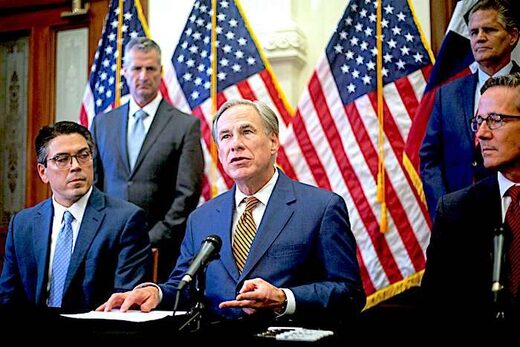 As the
Delta variant sweeps across Texas
, local officials in the state's largest metro areas who have swallowed Gov. Greg Abbott's bans on COVID restrictions for much of the pandemic are now in full revolt against the governor over his refusal to allow local mask mandates.
On Tuesday afternoon, a state district judge in San Antonio
granted a request
by the mayor and Bexar County judge to
require face coverings in schools and at city and county facilities.
Hours later,
a Dallas judge
ruled
that Abbott's ban on mask mandates was not "a necessary action to combat the pandemic"
and granted Dallas County's top elected official
broad authority to require masks in public. Harris County commissioners piled on shortly after,
authorizing
the county attorney to file their own challenge to the governor's order.
Meanwhile,
Austin and Dallas schools
already had issued their own mask mandates in defiance of the governor's order.
Houston ISD,
the state's largest public school system, was
expected to follow suit
Thursday ahead of reopenings
next week
, while Mayor Sylvester Turner since last Wednesday
has required city employees to wear masks
at work when they are unable to socially distance.
Fort Worth ISD
will also require masks indoors next week when classes begin, the district's superintendent
announced Tuesday evening
.
The local pushback coincides with a surge in COVID cases and hospitalizations that has overwhelmed medical facilities in Houston and across the state. While mayors and county judges have frequently blasted Abbott for overriding their COVID decisions, until now they had made only sporadic one-off attempts to flout the governor, with little success.
Jeronimo Cortina, a political science professor at the University of Houston, said:
"Obviously cities and counties sue the state left and right for certain policies and this and that, but I haven't seen this number of school districts and local officials suing the governor before."
Local officials have said they feel compelled to act without any tools to combat the sharpest rise in COVID cases and hospitalizations since the pandemic began last spring. Harris County Judge Lina Hidalgo said earlier this week as she touted support for Houston ISD's potential mask mandate:
"It's a moment of necessary civil disobedience. Children's lives are literally at risk. Schools have an unspoken commitment to protect the children in their care. I can't imagine the state of Texas suing school districts that require masks to keep kids safe."
Abbott has defended his approach to the virus,
arguing
that Texans have "mastered the safe practices that help to prevent and avoid the spread of COVID-19" and no longer require government restrictions. On Monday, however,
Abbott announced
that state health officials will begin recruiting out-of-state nurses to help fill staffing gaps and asked hospital executives to postpone non-critical surgeries.
By Tuesday, more than 10,000 people were
hospitalized with COVID-19 in Texas
for the first time in six months. The Houston region recorded an increase in COVID hospitalizations
for the 25th straight day
, with local hospitals recording their highest numbers since late January when only 2 percent of the state was vaccinated.
Medical officials say the surge is being driven by the highly contagious Delta variant and the millions of Texans who have yet to receive the COVID vaccine.
The Centers for Disease Control and Prevention said last month that 97 percent of people entering hospitals for COVID-19 were unvaccinated,
one of the many recent statistics that
have left parents concerned
as they prepare to send children who are not eligible for the vaccine back to school.
Abbott spokeswoman Renae Eze predicted an appellate court would reverse the San Antonio judge's decision, and chastised school officials for imposing mask mandates
in the face of
the governor's order
, which he
issued in May
. Eze said:
"We are all working to protect Texas children and those most vulnerable among us, but violating the governor's executive orders — and violating parental rights — is not the way to do it. Governor Abbott has been clear that the time for mask mandates is over; now is the time for personal responsibility. Parents and guardians have the right to decide whether their child will wear a mask or not, just as with any other decision in their child's life."
Meanwhile in
Harris County, state judges
joined the parade of local mask mandates
on Tuesday, voting unanimously to require face coverings in courthouses despite Abbott's order. Judges cited guidance from the all-Republican Texas Supreme Court that gives judges broad discretion to take "reasonable" action to protect themselves and those in their courtrooms, along with an opinion from Attorney General Ken Paxton last August that stated judges could require masks in their courtrooms.
The city of San Antonio is now suing for that same discretion.
At a hearing Tuesday afternoon before state District Judge Antonia "Toni" Arteaga, a city attorney
argued that Abbott had exceeded the bounds of the Texas Disaster Act of 1975,
which the governor cited in suspending local authority to impose COVID restrictions. Assistant City Attorney Bill Christian said:
"The Texas Legislature has given cities and counties broad authority within the Texas Health and Safety Act. Only the Legislature has the authority to suspend laws."
Kimberly Gdula, a lawyer with the Texas Attorney General's Office, pointed to an appellate court ruling last November that upheld Abbott's ban on local business restrictions. She also argued that the city and county were asking the court to improperly "throw out" parts of the Disaster Act.
Arteaga is set to take up the case again on Monday at an injunction hearing. In the meantime, the
San Antonio-area health authority
swiftly enacted a mask mandate for local schools and
issued a requirement that unvaccinated students, staff, teachers and visitors remain away from campus
if they are "found to be in close contact with a COVID-19 positive person."
Abbott has become familiar with mask mandate debates during the course of the pandemic, drawing criticism from local leaders when he
nullified Harris County's first mask order
in the spring of 2020 before
facing heat from Republicans
who accused the governor of infringing on their personal liberties when he issued his own mask requirement for most of the state a few months later.
Since Abbott began removing local authority to issue COVID restrictions,
a handful of officials have openly defied the governor only to see their attempts struck down in court.
Last November, El Paso County Judge Ricardo Samaniego unsuccessfully ordered nonessential businesses to close during a massive spike in cases that led officials to
enlist inmates
to help handle the flow of dead bodies in local morgues.
The Texas Supreme Court later blocked Austin and Travis County
restrictions on restaurant operations
around the New Year's holiday. The city and county also temporarily continued to require masks in public after Abbott lifted his statewide mask mandate in March.
With the ongoing COVID surge,
Cortina said the best political outcome for Abbott now may be for the courts to uphold the local mask mandates:
"That way, the governor would simply not backtrack on his executive orders, while allowing counties and ISDs to do as they please."