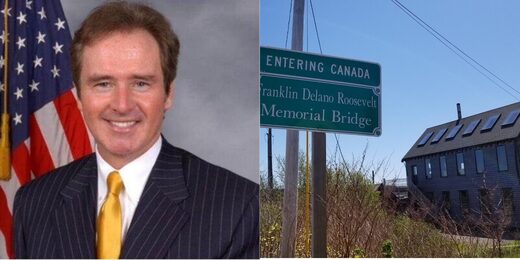 Rep. Brian Higgins (D-NY) communicated once again on Friday his inconformity with the fact that the US/Canada land border closure has once again been extended, this time to Jul. 21 2021.
"There's no other way to say it: another month's delay is bullshit.
#LetUsReunite
," tweeted Higgins.
According to
local outlet WREN 930's website,
Higgins also interviewed with the media on Friday, and said the following:
"Two weeks ago, an exception was granted to the National Hockey League. Not based on science, not based on facts, but based on the Stanley Cup Playoffs schedule."
"That is bulls**t and it should not be tolerated by these people who have been separated from the families, their property and from transacting business."
"There needs to be a vision articulated for when that border will be open. This has been 15 months of people being separated from their loved ones, it's highly unfair and disrespectful to both US and Canadian citizens."
The Canada-US Interparliamentary Group, of which Rep. Higgins is a member, issued the following statement in the wake of the decision to keep the border closed:
"Millions of Americans and Canadians are counting on our governments to work together to reach an agreement that provides a clear roadmap for reopening the border between our two nations."
"The lack of transparency surrounding these negotiations is a disservice to our constituents and the millions of residents on both sides of the border waiting to see their loved ones, visit their property, and renew business ties."
"While the arrival of vaccines in record time has been a modern marvel, the inability of the U.S. and Canadian governments to reach an agreement on alleviating border restrictions or aligning additional essential traveler classes is simply unacceptable."