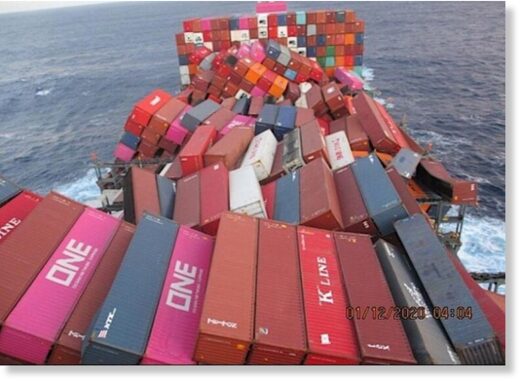 Ship returned to Japan after encountering severe weather (wave heights of up to 16 meters, or 52.5 feet, the height of a five-story building).
The ONE Apus
suffered the incident after encountering severe weather on Monday, November 30, during its voyage from Yantian, China to Long Beach, California. The vessel was approximately 1,600 nautical miles northwest of Hawaii at the time.
The ONE Apus
is a 14,000 TEU containership built in 2019 measuring 364-meters in length and sailing under the Japanese flag. The vessel is operated by Japan's Ocean Network Express on the Far East Pacific 2 (FP2) Service.
An update places the number of containers either lost or damaged at 1,816 units, of which
64 are believed to be Dangerous Goods containers.
Weather maps around the time of the incident show significant wave heights of up to 16 meters associated with the low pressure system.
Thanks to Laurel for this
link
.