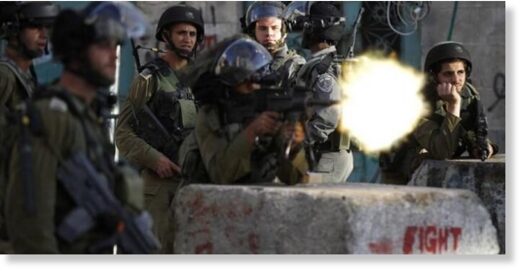 The Israeli journalist, Amira Haas, strongly criticized the practices of the Israeli occupation army against Palestinian citizens, especially children.
In an article published on Monday in the
Hebrew newspaper Haaretz
, Haas asked: Did the soldiers celebrate after they killed the Palestinian child Ali Abu Alya (13 years) from Mughayir village near Ramallah with a bullet in his stomach last Friday (4/12/2020) Like they celebrated on the 27th of last November, after they fired a bullet that hit the foot of a Palestinian child?
"A video documented the moment the soldiers and female soldiers celebrated the injury of the Palestinian child in the foot during confrontations that erupted in the village of Kafr Malik near Ramallah."

Comment: It seems pretty clear that, quite despicably, the Israeli soldiers did celebrate:



"In the video, a Palestinian young man was seen suddenly falling and holding his foot, while one of the soldiers began to laugh, and the two female soldiers congratulated the sniper. After the wounded person was transported, a female soldier rushed to embrace the sniper who fired, and shouted, "How beautiful this is," while the commander of the force heard him saying "excellent," she added.
Haas pointed out:
"The conditions in which the soldiers opened fire on Friday are similar. The Palestinians are demonstrating against a settlement outpost that annexes their lands, and the soldiers use violence immediately."