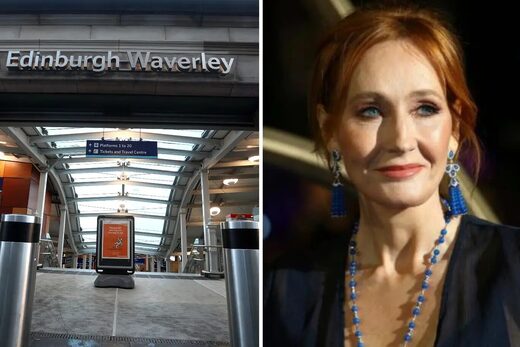 An advert in support of author JK Rowling has been removed from a train station in Edinburgh for reportedly being too "political" and potentially offensive.
Network Rail confirmed that the advertisement had been taken down from Edinburgh Waverley because it breached its policy by promoting a political viewpoint.
A company source told The Times that the words were harmless, but the "context" was likely to cause offence.
The "I love JK Rowling" advert had been designed and placed for £1,200 by Kellie-Jay Keen-Minshull, a feminist campaigner against reform of gender recognition laws.
Responding to a query from a member of the public on Wednesday, Network Rail Scotland said on Twitter: "This advert is no longer displayed at Edinburgh Waverley.
"The poster in question is against our code of acceptance for advertising in our stations owing to its political nature.
"We do not allow advertising that is likely to support or promote one viewpoint over another."
JK Rowling prompted furious criticism after she took issue with a headline on an online article discussing "people who menstruate".
She tweeted: "I'm sure there used to be a word for those people. Someone help me out. Wumben? Wimpund? Woomud?"
Among her critics were Daniel Radcliffe, the star of the Harry Potter film series, and Eddie Redmayne, who leads the cast of Fantastic Beasts.
JK Rowling hit back at the criticism, saying she spoke out because she had been sexually assaulted and suffered from domestic abuse.
In a lengthy blog post on her website, the Harry Potter author answered her critics with five reasons why she felt the need to talk about the issue - including her interest in "both education and safeguarding" and "freedom of speech".
The
Standard
has contacted Network Rail for comment.