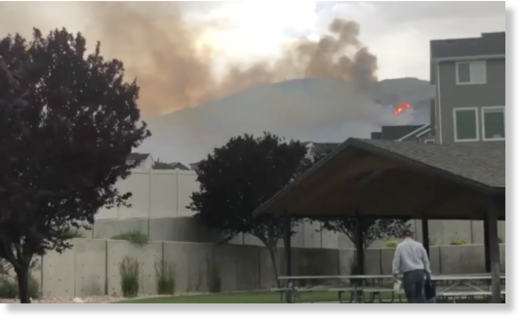 Officials ordered 3,100 homes evacuated in Saratoga Springs after a fire broke out just west of Utah Lake — caused by a lightning strike in the area. This amounts to roughly 13,000 residents, the city tweeted Sunday evening.
As of 7:15 p.m., there was no timeline on when residents can return to their homes — with the city encouraging evacuees to stay with friends or family until further notice.
Residents are currently being relocated at Westlake High School as the current evacuation spot, with nearly a dozen or so cars in the parking lot.
Roughly one-third of the population at Saratoga Springs is under mandatory evacuation — including all homes south of Grandview Blvd. on the west side of Redwood Road, according to Utah CERT Teams.
Earlier today:
The Lake Mountain Estates and Pelican Bay neighborhoods of Saratoga Springs had to be evacuated Sunday afternoon shortly after lightning sparked a fire west of Utah Lake.
In a tweet, Lt. Gov. Spencer Cox asked residents to "Be vigilant and be safe" while confirming a lightning strike as the cause of the fire near Utah Lake.
There was no immediate word on the size of the fire, but winds in the area were gusting over 50 miles an hour at times.
This story is breaking and will be updated.