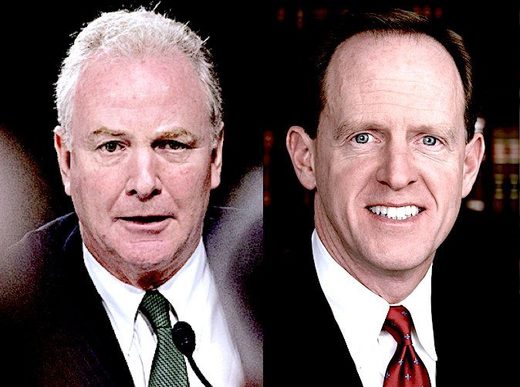 Lawmakers in the United States on Tuesday hoped to ratchet up pressure on Beijing over moves from the Chinese government to crack down on Hong Kong's autonomy, even as President Donald Trump told reporters his administration would soon "do something" about the situation.
US senators have proposed a bill that would allow for sanctions against anyone with a role in violating "China's obligations to Hong Kong under the [Sino-British] Joint Declaration and the Basic Law", and on banks who do business with them.
The bipartisan
"Sanctions Bill to Defend Hong Kong's Autonomy" is the work of Democratic senator Chris Van Hollen and Republican senator Pat Toomey,
and is in response to what Toomey's office calls
"increasingly brazen interference from the Chinese Communist Party".
When asked if he was prepared to use sanctions against China over the issue, the president said:
"We're doing something now. I think you'll find it very interesting. It's something you're going to be hearing about ... before the end of the week - very powerfully."
The bill's proposal follows a new national security law for Hong Kong put forward by Beijing last week that would ban treason and other perceived offences in the city.
The Chinese government's move was met with widespread dismay and alarm in Hong Kong, which has already been roiled by massive pro-democracy protests over the past year, as well as the coronavirus pandemic.
Democratic lawmakers in Hong Kong said
the law would effectively spell the end of the "one country, two systems" model under which the city is governed.
Toomey commented:
"The communist regime in Beijing would like nothing more than to extinguish the autonomy of Hong Kong and the rights of its people. This bipartisan legislation will impose strict sanctions on those who undermine Hong Kong's autonomy or contribute to the erosion of basic freedoms and rights enjoyed by the people of Hong Kong."
The American bill is seen as
a kind of follow-up to another law passed last year - despite multiple warnings from Beijing - that would strip Hong Kong of its valuable special trading status with the United States if it is no longer considered autonomous.
But the newly proposed legislation
goes many steps further, creating a clear legal pathway for comprehensive US sanctions on a range of targets
perceived in having a hand in cracking down on the city:
from Hong Kong police to Chinese officials and, crucially, the financial institutions that do business with them.
In another key difference, the bill will effectively
circumvent any opposition from Trump, allowing Congress to vote to override the White House if the president waives any sanctions against individuals.
While Trump has taken a hard line against China in public, especially around the country's handling of the coronavirus and a perceived trade imbalance,
he has been reluctant to take concrete action in defence of Hong Kong, including delaying a widely anticipated decision to certify its continued autonomy.
Tuesday's comments indicate a tougher line on Beijing over its handling of Hong Kong - a sign that inaction from the White House may be coming to an end.
Lawmakers meanwhile are hoping that their bill can pass quickly and lead to sanctions in time to dissuade Beijing from its current course. Van Hollen said on Tuesday:
"I urge the Senate to take up this bill immediately - it's clear we have no time to waste ... We want to make sure that we're squeezing those individuals who are at the heart of these decisions to deprive the people of Hong Kong of their right."
"In many ways, Hong Kong is the canary in the coal mine for Asia," Toomey said. "Beijing's growing interference could have a chilling effect on other nations struggling for freedom in China's shadow."