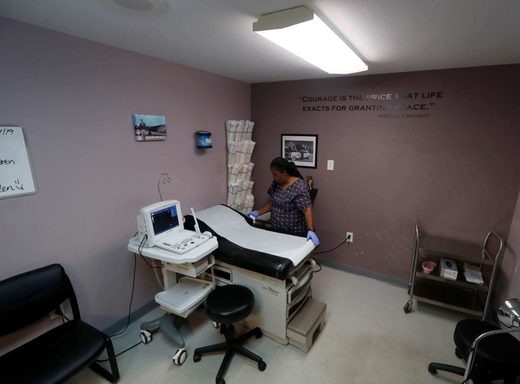 Texas struck a blow against abortion rights when a federal appeals court ruled the state can ban most procedures as long as the governor's emergency health decree to save medical supplies for fighting the pandemic is in effect.
A three-judge panel in New Orleans said in a 2-1 ruling Tuesday that some women's constitutional right to abortion can be temporarily set aside during a national health emergency.
US Supreme Court precedent says "all constitutional rights may be reasonably restricted to combat a public health emergency," Circuit Judge Kyle Duncan, who was appointed by President Donald Trump, wrote in the majority opinion.
The clinics that challenged the state's policy vowed an immediate appeal, which could escalate the fight to the nation's high court.
A March 22 order by Texas Governor Greg Abbott, a Republican, banned all non-essential medical procedures in order to preserve hospital beds and personal protective equipment for treating Covid-19 patients. The order applies to even non-surgical abortions that don't require masks and gloves, and violators face steep fines and jail time, according to Texas Attorney General Ken Paxton, also a Republican. The governor's order made an exception for abortions necessary to save the mother's life.
The case has attracted national political attention. Eighteen mostly Republican states, led by Louisiana, supported Texas. New York is leading a coalition of 18 mostly Democratic states and the District of Columbia in support of the clinics.
Republican governors in Ohio, Oklahoma, Iowa, Indiana, Tennessee, Alabama and Arkansas have adopted coronavirus-focused abortion bans, while state politicians in Mississippi and Kentucky have proposed similar measures. Women's health advocates are challenging most of these restrictions. Ohio, Oklahoma, Iowa and Alabama are currently allowing some abortions to continue as a result of litigation.
The majority decision in the Texas case discounted the clinics' argument that they don't have hospital beds and use very little personal protective equipment, "if any," that can be diverted to treating coronavirus patients.
The clinics also contended that more protective equipment and hospital beds will be required to treat hundreds of women forced to carry pregnancies to term because they can't get abortions in time.
The clinics attributed the restrictions to political opportunism, saying in a court filing that the governor and attorney general are trying to exploit a "real crisis and achieve their longtime goal of banning abortion, though doing so does not advance the executive order's stated goals."
The ruling by Duncan was joined by US Circuit Judge Jennifer Elrod, a George W. Bush appointee. Both have well-documented anti-abortion views. US Circuit Judge James Dennis, a Bill Clinton appointee, dissented forcefully, just as he had when the panel initially gave Texas temporary permission to suspend abortion rights.
Dennis said the majority opinion misapplied the century-old Supreme Court precedent that gave city officials the police power to require citizens to get smallpox vaccinations to stop a raging epidemic. With Texas's abortion restriction, the clinics aren't spreading coronavirus, and it is unclear that what little medical supplies they have can be redeployed to fight the pandemic, Dennis said.
The earlier court decision "did not conclude that an emergency situation deprives courts of their duty and power to uphold the constitution -- quite the opposite, in fact," Dennis wrote.
The case is In Re Greg Abbott, 20-50264, US Court of Appeals for the Fifth Circuit (New Orleans).