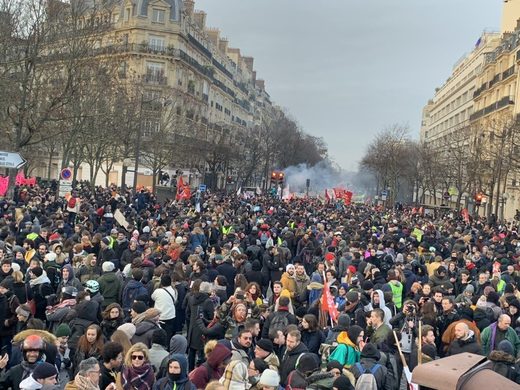 Thousands of people have turned out again across France in support of ongoing strikes against proposed pension reforms by President Emmanuel Macron's government.
The Ministry of the Interior estimates some 339,000 people demonstrated throughout France, with 31,000 in the capital.
The CGT union claims 885,000 protesters took to the streets on Tuesday around the country, with 180,000 in Paris alone.
While the numbers of protesters were massive, the turnout was almost twice as low compared to the protest held
on December 5. Back then, 1.5 million took to the streets nationwide with 250,000 in Paris
alone, according to the CGT figures.

Comment: One must bear in mind these protests have, in one form or another, been going on for over a year now and they're still able to bring together over 1.5 million people.


The massive protests were triggered by Macron's plan to simplify the country's pension system, merging the current over 40 separate pension plans into a single, points-based one. The
trade unions, however, argue that the whole purpose of the proposed reform is to strip workers of their hard-earned benefits
.
In some locations, as with the city of Lyon, the pension protests escalated into clashes between the demonstrators and law enforcement. Footage from the scene shows the police repeatedly charging the protesters and deploying tear gas, in an attempt to disperse them.
The strikes have caused major transport disruptions since they kicked off on December 5.
French Prime Minister Édouard Philippe is due to reveal detailed plans for pension reform on Wednesday, which could trigger a further wave of protests and worker strikes.