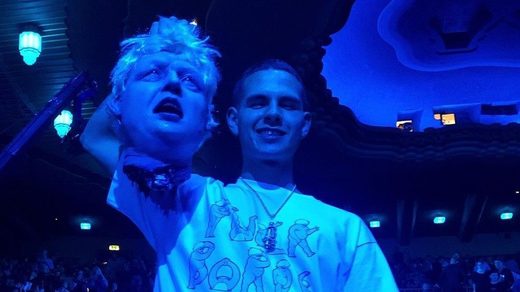 A British rapper's 'tasteless' publicity stunt has been lambasted on social media, after he waved a fake severed head of Prime Minister Boris Johnson during an award show.
The 24-year-old rapper slowthai, whose real name is Tyron Frampton,
ended his performance at the Mercury Prize ceremony
in London on Thursday night by pulling out a mock-up decapitated head of PM Johnson.
"F**k Boris Johnson! F**k everything!"
he shouted on stage while waving the head. The rapper also screamed:
"And there ain't nothing great about Britain," referring to the name of his debut album, 'Nothing Great About Britain.' He did all this while wearing a "F**k Boris" T-shirt - an item he sells through his online store.
The stunt later prompted bewildered show host Lauren Laverne to provide a disclaimer, saying the rapper had presented "his own views."
The audience met slowthai's performance with applause. However, the artist was criticized on social media, as
many
his
antics
"tasteless" and "attention-seeking."
Commenters accused him of resorting to cheap shock value in order to promote his album. Some even
suggested
that sporting the fake head of a politician is tantamount to inciting violence.
"5 min of fame then back to obscurity for you," one person
wrote
on Twitter. "What people will do for publicity," another
said
.
Media and child-protection campaigner Sara Payne
tweeted
: "We don't have to like these politicians, but this is NOT entertainment, it's creepy and disturbing."
Some commenters also compared slowthai to comedian Kathy Griffin, who once brandished a fake severed head of US President Donald Trump during a promo for her show. Griffin apologized
for the stunt after getting hit with severe backlash, but later took her apology back.
Slowthai is not the first UK hip-hop artist to publicly lash out at the British political elite.
Last year, rapper Stormzy delivered a scathing verse blasting then-prime minister Theresa May during his performance at the Brit Awards.