Comment: This is the kind of insight that is rarely articulated by elites anywhere; their culpability in wrecking their own country. As a member of PM Khan's cabinet, we can assume the interior minister had the blessing of his boss to say this...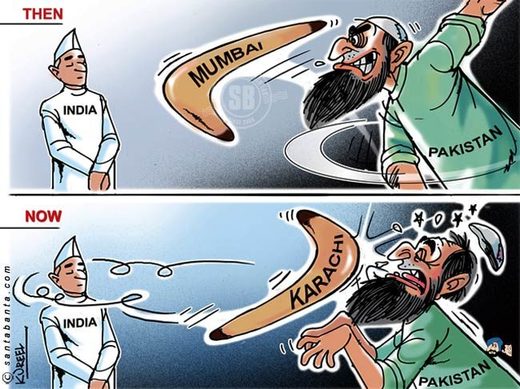 Pakistan's interior minister claims the "ruling elite" has "destroyed the country"
and failed to garner international support over the Kashmir conflict with India, in a high-profile embarrassment for the Khan administration.
"People do not believe us in the international community. We say they [India] impose curfew and are not giving medicines to people of Jammu and Kashmir. People do not believe us, but they believe them,"
Interior Minister Brigadier Ijaz Ahmed Shah said during a Hum News talk show appearance on Wednesday evening.
"The ruling elite has destroyed the country. The ruling elite of this country destroyed the name. People think we are not a serious nation."
Comment:
How can it be otherwise? As we
outlined elsewhere
, Pakistan's very economy relies on what are effectively grants provided by the US, UK and Saudi Arabia to hand out welfare to local warlords, who have, in turn, supplied terrorists/mercenaries to Afghan Mujahideen (1980s), terrorists targeting India
and Iran
, 'rebels' in Libya and Syria, and elements of the Taliban in Afghanistan (2000s).
Playing the role of 'Islamic State' in south Asia by supplying the 'raw material' for Jihadi, Inc. is hardly a sustainable development model. Those chickens were always going to come home to roost...
When asked directly whether Imran Khan and his top advisors ranked among the
"ruling elite"
Shah parried, saying
"Everyone is responsible. Pakistan should now do a soul searching."

Comment: Yes, it needs fundamental, constitutional reorganization, if only in its outlook and not on paper. Accepting that India will develop to the point of exerting the kind of pan-Asian influence China today exerts is a good starting point.


Pakistan has been snubbed repeatedly on the Kashmir issue by the international diplomatic community. The United Nations told Khan's government to resolve the issue diplomatically but without external support, despite US President Donald Trump's rejected offer to mediate negotiations with India.
In another embarrassing revelation during the same interview, former spy Shah
admitted that Pakistan had
"spent millions of rupees on Jamat ud Dawa (JuD),"
an outlawed charity accused of acting as a front for the Lashkar-e-Taiba terrorist group which carried out the 2008 Mumbai attacks and operates within Pakistan
.
"We need to demotivate the members of the proscribed organisation and bring them down to the mainstream,"
Shah added.

Comment: Yes, Pakistan needs to quit seeing terrorism as a valid form of employment. Get CIVILIZED! Just because the US, UK and Israel still believe terrorism is an acceptable way to do business with other countries doesn't mean you have to.

In the course of your soul-searching, you might also come to the realization that your decades-long policy of 'terrorists-for-hire' has wrecked the reputation of Islam all over the world.


Earlier this week, Pakistan Foreign Minister Shah Mahmood Qureshi told a United Nations Human Rights Council (UNHRC) session in Geneva that India had turned Kashmir and Jammu into the largest "caged prison in this planet".
This elicited a fierce response from New Delhi which said that Pakistan was "the epicenter of global terrorism" which uses political violence as a form of alternative diplomacy
.

Comment: Which everyone essentially acknowledges as truth, which is why India is slaughtering Pakistan in the diplomacy/propaganda stakes.


Meanwhile, Pakistan Prime Minister Imran Khan
says that
Washington has hung his country out to dry and that Pakistanis have suffered greatly as a result of the ongoing War on Terror.