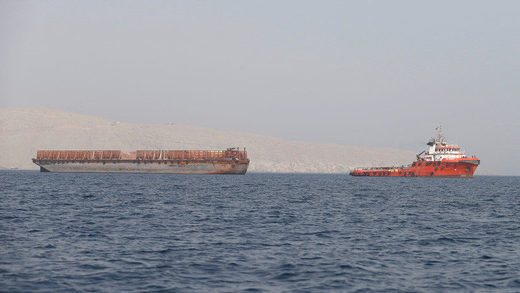 Iran's Revolutionary Guards have seized a "foreign vessel," saying it was "smuggling" one million liters of fuel, the Islamic Republic's media reported. It comes amid Tehran's quarrel with London over a seized tanker.
The tanker was intercepted by the Islamic Revolutionary Guard Corps (IRGC) near Larak Island in the Strait of Hormuz off Iran's coast, the bottleneck point for maritime traffic from the Persian Gulf. According to a statement aired by Iranian state TV,
the ship was seized on July 14
. The IRGC would not provide details about the ownership of the vessel, but said there were 12 crew members on board when it was detained.
The ship in question
may be the UAE-owned, Panamanian-flagged MT 'Riah,' which went missing last Sunday
while passing the strait and was presumed captured by the IRGC.
Tehran earlier insisted the ship had experienced a technical malfunction and was towed into Iranian waters for repair.
Comment:
The footage released indeed shows this vessel to be the
Riah
.
The Iranians had
previously stated
that they had assisted the tanker due to a "technical fault". (After receiving a request for assistance, Iranian forces approached it and used a tugboat to pull it towards Iranian waters for the necessary repairs to be carried out", Abbas Mousavi said, quoted by the ISNA news agency, according to Reuters.) Now they say that the vessel was
later seized
after it was determined to have been engaged in smuggling.
The U.S. State Department's response is fairly standard:
"The United States strongly condemns the Islamic Revolutionary Guard Corps Navy's continued harassment of vessels and interference with safe passage in and around the Strait of Hormuz", the spokesperson wrote in a response to Reuters.
British authorities previously seized a supertanker carrying Iranian crude through the Strait of Gibraltar, claiming its cargo was destined for Syria and thus was subject to EU sanctions targeting Iran's ally. Tehran compared the arrest to an act of piracy and demanded the release of the ship, the Panamanian-flagged 'Grace 1.'
Iran accused the UK of doing Washington's bidding and helping the US attempt to stifle the Islamic Republic's oil exports.