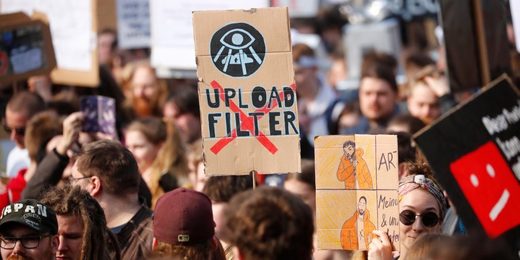 The European Parliament on Tuesday passed legislation massively tightening copyright laws on the internet - a move that has been vocally opposed by tech companies, academics, and consumers.
The original draft of the new laws was
sent back to the drawing board in July
for being too sweeping. A softened version was
then drawn up in September
. On Tuesday, the directive passed in a 348-274 vote.
Two articles in particular are particularly contentious. Article 11 is sometimes called the "link tax," and it will require companies such as Google to hold licenses for linking to publishers.
Article 13, meanwhile, requires internet companies such as Reddit to police their platforms for copyright infringements and filter out any offending content. When first proposed, it sparked fears that it could
essentially kill off memes
.
In a press release following
the vote, however, the European Parliament said memes would be excluded from the remit of the new laws, along with GIFs.

Comment: Until those memes are discovered to have the power to sway opinion from the acceptable narrative. Then they'll be banned too.


Before the main vote, European lawmakers voted by a majority of five votes to reject the ability to amend these controversial elements of the directive.
Axel Voss, the European lawmaker who spearheaded the copyright changes,
said in a statement
:
"This directive is an important step towards correcting a situation which has allowed a few companies to earn huge sums of money without properly remunerating the thousands of creatives and journalists whose work they depend on.

"This is a directive which protects people's living, safeguards democracy by defending a diverse media landscape, entrenches freedom of expression, and encourages start-ups and technological development. It helps make the internet ready for the future, a space which benefits everyone, not only a powerful few."

Comment: What spin! These laws protect mega-corporations and help to ensure their continued oligopoly without any threat from the little guy. It is a serious blow to freedom of expression, makes start-ups next to impossible and impedes technological development, literally the exact opposite of what Voss has stated. See this rundown from Computing Forever:



Andrus Ansip, the European Commission's vice president for the digital single market, also welcomed the new laws.
Julia Reda, a member of European Parliament who has campaigned against the laws, said it was a "dark day for internet freedom."
Google also tweeted its dismay, saying the new laws would cause "legal uncertainty."
The Wikipedia founder
Jimmy Wales said internet users "lost a huge battle today,"
while the
YouTuber KSI tweeted
: "Article 13 has just passed...RIP."
Reddit, Wikipedia, and PornHub
were among those who protested the laws last week, asking users to lobby their representatives in the European Parliament to vote against the measures.
Tens of thousands of protesters also took to the streets in Germany
and
other European countries
, including Sweden, Poland, Switzerland, Austria, and Portugal, to campaign against the changes.
Opponents fear the new laws will chill online speech. On Sunday, a group of 200 European academics
wrote a joint statement condemning the proposal
.