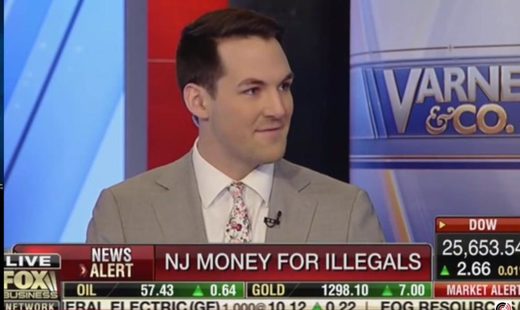 New Jersey taxpayers are footing the bill to help pay for illegal immigrants in the state to attend college, a move that
Campus Reform
's Cabot Phillips says sets encourages further illegal immigration to the U.S. and further sets a dangerous precedent for future generations.
As Campus Reform previously reported, New Jersey forked over $1.6 million during the fall 2018 semester alone to help more than 500 illegal immigrants attend college.
This is a result of Gov. Phil Murphy (D) signing a law allowing illegal immigrants to apply for state financial aid.
Phillips called the move "ridiculous" on Fox Business Network's
Varney and Co.
on Tuesday.
"Most average Americans can look at this story from the outside view and realize that it's ridiculous to use taxpayer money to subsidize and benefit people that are flagrantly breaking our immigration law," Phillips said, adding that the move "incentivizes further illegal immigration."
"If you're in another country thinking about skirting immigration laws and you see all the benefits that are given to people that do break the law, it's going to incentivize you further to come here illegally and also, it's an affront to law-abiding citizens," Phillips said.
While New Jersey is now using taxpayer dollars to fund illegal immigrants' college tuition, another school is taking a different approach.
As Campus Reform also
recently reported
, Gonzaga University in Washington State promoted a crowdfunding initiative to help put illegal immigrants through college. Gonzaga Young Democrats President Anthony Willins suggested to
Campus Reform
that's what Jesus would do.
"I think that as a Catholic institution, we are called to continue in the ministry of Jesus. This means standing up, and advocating for, as Jesus did, the most vulnerable members of God's creation," Willins said.