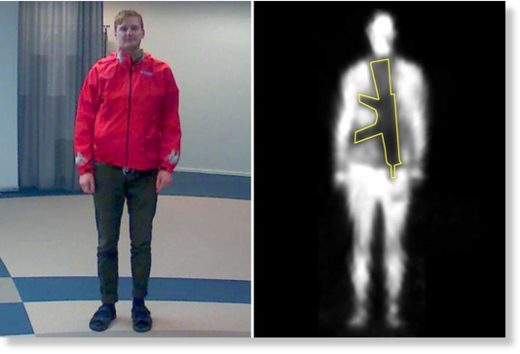 X-ray cameras that can reveal hidden weapons under clothes and bike stands to deter ram raiders are among the next generation of "public realm" defence gadgets on show in London today.
More than 20 features have been built into an
urban park
- designed by the architects of the MI6 building - at the International Security Expo.
The Protecting Urban Spaces installation is the centrepiece of the two-day Olympia show,
featuring concealed technology such as heat-seeking cameras.
The park's designer Neil Bennett, a partner at Marylebone-based Farrells, said London developers were increasingly requesting hidden defensive features.
He said "subtle changes" to public and semi-public spaces were being built in to add security.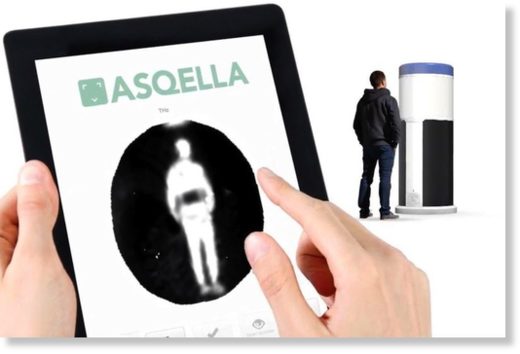 One of the devices on show is the
Argon weapon scanner
, which resembles a large upturned oil drum. It sweeps passers-by for electromagnetic waves so operators can see on-screen if guns or knives are beneath their clothes.

Comment: It probably sweeps passers-by with electromagnetic waves as well.


Its creators say it is able to "detect metallic and non-metallic concealed contraband" as small as a matchbox.
Other elements of the park include facial recognition cameras that scan vehicle occupants, even through tinted glass, to flag anyone not an employee or expected visitor.
A "protective" bin and bike stand have been reinforced and are said to be capable of withstanding a 7.5-tonne vehicle at 50mph.
Another scanner works by "directing a low-powered radar beam" and "interpreting the signal" reflected off the body to expose "hard objects" such as suicide vests.

Comment: Because suicide vests are so commonly used everywhere.


The firm was responsible for the masterplan of the new US embassy, which includes a moat and "clear line of fire" against attackers. It also designed Home Office headquarters at Marsham Street, which has fountains and planters meant to deter ram raiders.
Mr Bennett said developers were increasingly asking for measures to counteract moped gangs. These include chicanes disguised as hedges that prevent alleyways being used as rat runs by riders trying to flee police.
He said the installation was "all you would expect from a park, but with subtle changes in how furniture such as benches are made and positioned".
"People are wanting us to make their buildings secure, without them appearing to be secure ... As urban designers, we like to make places very open to the surroundings. But police will tell you they're concerned about mopeds ... the trick is making a kind of crooked route sufficiently difficult for a moped, but so a pram can get through."
At the Expo, Met deputy assistant commissioner Lucy D'Orsi and Robin Merrett, the Mayor's head of operational oversight, will discuss tackling incidents like terror attacks and the Salisbury poisoning.