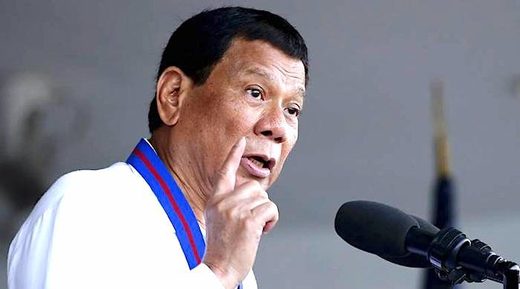 President Rodrigo Duterte on Thursday continued his tirade against bishops and other Catholic officials, saying that Filipinos do not have to go to church to pay for "idiots." During a speech in Davao City,
Duterte suggested that people should instead build their own chapels at home.
"You build a chapel on your own house and pray there. You don't have to go to the church to pay for these idiots," Duterte said at the groundbreaking ceremony of the Davao City Bulk Water Supply Project.
The President added Catholic beliefs are "archaic" and that the Church's teachings do not apply in present time.
"The Catholic church,
pati si
Bishop David
sa
Caloocan (are) clinging on to a belief which was 3,000 years ago,"
Duterte said. "
Ang mga tao noon,
nomads. What do they know about the world today?
Tapos pasundin mo 'yung pinapasulat niyo
," he added. [Translation: The people back then were nomads. What do they know about the world today? And then you'r e going to make people follow your teachings.]
Duterte was referring to Caloocan Bishop Pablo Virgilio David,
who recently slammed the President's
allegations
that bishops were stealing and "asking for contributions." Caloocan Bishop Pablo Virgilio David earlier said he has reason to believe the President was referring to him, since he is "the only Bishop 'David' in the CBCP (Catholic Bishops' Conference of the Philippines)."
More allegations against Bishop David
Aside from the theft allegations, Duterte also insinuated that the bishop was involved in illegal drugs.
"I'm telling you, David. Nagdududa nga ako bakit sige ikot 'yan ng gabi. Nagduda tuloy ako. P***** i** nasa droga ka," he said. [Translation: You are shady, David. Why do you keep roving at night. I'm thinking you're involved in drugs.]
David was quick to deny Duterte's allegations. In a
Facebook post on Monday night
, he said he's not into any sort of drugs.
"No, sir. I'm not into drugs of any sort, whether legal or illegal. Never been. I only help in rehabilitating people addicted to drugs," he posted. He also gave an advice to the "sick" Duterte. "I only take vitamins with fruit shake blended with malunggay in the morning. You might want to try it, Sir. It will do you a lot of good," Bishop David added.
Critics have been calling for transparency regarding Duterte's health after he admitted having several medical conditions, and disclosing in October that his medical tests turned out "negative" for cancer.
In a public Facebook post on November 23, David said, "I think he (Duterte) has confused me for someone else. You see, people who are sick sometimes do not know what they are talking about, so we should just bear with them. My parents never taught me to steal," David added. David has been posting on social media his reactions to some of Duterte's statements.
Early this month, David called Duterte a "very sick man" and urged Catholics to pray for the President who tagged saints as fools and drunkards.
In September, David said Duterte's public confession that his "only sin are extrajudicial killings" should be followed by "sincere repentance" and "concrete acts of penance" so God can forgive him.
Duterte in July met with CBCP President Archbishop Romulo Valles in a one-on-one conversation, where
the President vowed to stop his outbursts against God and the Church.
This was supposed to be followed by Malacañang's dialogue with the CBCP, but the date has yet to be set.