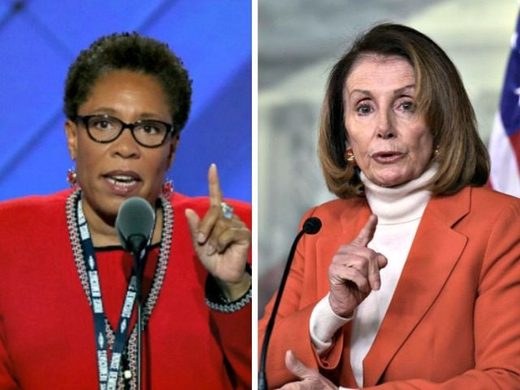 Potential Democrat speakership candidate Rep. Marcia Fudge (D-OH) says that House Minority Leader Nancy Pelosi, the former Speaker who is angling to retake the gavel early next year, is an "elitist" and "very wealthy person" who surrounds herself with other "very wealthy people."
In
an interview
with the Huffington Post's Matt Fuller, Fudge-the former chairwoman of the Congressional Black Caucus who is toying with a run for the Speaker position against Pelosi-says that people do not like Pelosi because "they see her as an elitist."
"And I think to some degree she is," Fudge said. "She's a very wealthy person. She raises a lot of money from a lot of other wealthy people."
"Everybody wants to give her such big credit for winning back the House, and she should be here because she won. She didn't win it by herself," Fudge added, also saying:
"If we're going to give her credit for the wins, why is she not responsible for all the losses?"
She, per Fuller, pointed to how Democrats had lost 63 seats in the 2010 election and did not regain majorities in 2012, 2014, or 2016-not until 2018 did Democrats retake the House.
Fudge is one of the signers of a letter from Democrats pledging to oppose Pelosi's speakership bid on the House floor in January.
Depending on where some final races come down, Pelosi, in the best case scenario, can afford to lose just shy of 20 votes. The letter already, reportedly, per
a previous story
from the Huffington Post's Fuller, has enough signatures to block her ascent to the Speakership, assuming its signers follow through on their pledge.
Fudge also on Wednesday floated a potential speakership bid of her own in an interview with her hometown
Cleveland Plain Dealer
, saying she would be open to running against Pelosi but at this time had not committed to doing so. Meanwhile, anti-Pelosi Democrats including Reps. Ed Perlmutter (D-CO), Kurt Schrader (D-OR), and Seth Moulton (D-MA), say they already have the votes to stop her from being Speaker. Pelosi retorts that she will be Speaker no matter what they say, and says she has the votes for the job - despite clearly not locking enough down per this circulating letter.
Meanwhile, Fudge is out there stirring the pot, pushing for new leadership - and arguing that "racism" has seeped into the Democrat leadership under Pelosi.
"I don't have a pitch because at this point I've not decided I'm going to run," Fudge said in the Huffington Post interview, "but I would say this: My concern about the caucus is the same concern I have about the country. Just as there is this undertone of racism in the country, there's also that in our caucus."
Her specific argument is that Pelosi has not done enough for the Congressional Black Caucus to warrant support. From the Huffington Post interview with Fudge:
Fudge pointed to Pelosi's refusal to endorse in the race for majority whip, a contest between the current No. 3 Democrat ― and CBC stalwart ― Jim Clyburn (D-S.C.), and Rep. Diana DeGette (D-Colo.).

"But she wants our endorsements?" Fudge said of Pelosi. "Who has she endorsed?"

"We're not feeling the love," she added.
That all being said, Fudge insists she does not "hate" Pelosi and believes Pelosi has been effective as a leader but thinks it is time for Democrats to have a new leader.
"I don't hate Nancy. I think Nancy has been a very good leader," Fudge said. "I just think it's time for a new one."
Fudge also says the lack of diversity in Democrat leadership ranks is clear - Pelosi is old and white, and Rep. Steny Hoyer (D-MD), the likely new Majority Leader who has been Pelosi's number two, is also old and white.
"And so I'm saying, what is wrong with acknowledging the fact that the Democratic Party is becoming more young, more black, and more brown?" Fudge said. "And letting that be reflected in our leadership."
Fudge also said she believes President Donald Trump is a "racist."
"The President of the United States is a racist, in my opinion," Fudge said. "If we open up the Civil Rights Act, it's like opening up Pandora's box."