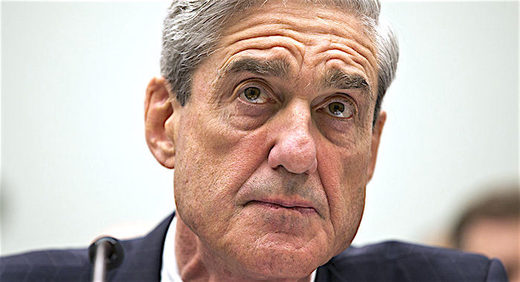 One day after Attorney General Jeff Sessions was announced out at the Department of Justice,
CNN
reports that special counsel Robert Mueller's team has "begun writing its final report," according to "multiple sources."
According to
CNN
, "all signs point to an investigation that is winding down."
Rumors over Mueller's final report comes as Democrats go into full panic mode over the appointment of Matt Whitaker - Sessions' former right-hand man, as interim Attorney General Whitaker will take over the Russia investigation from Deputy Attorney General Rod Rosenstein, who signed off on a FISA surveillance warrant application and subsequent renewals for former Trump campaign aide Carter Page.
Democrats have raised concerns over how Whitaker will handle the Russia investigation, with
Sen. Chuck Schumer (D-NY) demanding Whitaker recuse himself
over previous comments about the special counsel, after he said that
if Mueller investigates the Trump family finances beyond anything to do with Russia, "that goes beyond the scope of the special counsel.
"
Rep. Nancy Pelosi (D-CA) also called for Whitaker's recusal,
stating that "Deputy Attorney General Rosenstein should be allowed to continue to oversee the investigation, unhindered."
In a Wednesday tweet, Pelosi said: "Given his record of threats to undermine & weaken the Russia investigation, Matthew Whitaker should recuse himself from any involvement in Mueller's investigation. Congress must take immediate action to protect the rule of law and integrity of the investigation."
Meanwhile, questions remain over
what Mueller intends to do with longtime Trump adviser Roger Stone,
who has been at the center of the latest arc of the "Russiagate" saga.
As recently as a month ago, Mueller asked Trump's lawyers to produce call and visitor logs related to Stone from Trump Tower in New York, according to a source briefed on the matter. The request at this late stage of the investigation came as something of a surprise to lawyers involved, given that the Mueller team has been focused for months on Stone and his activities before the 2016 election.

Among the questions Mueller has asked the President to provide written responses on are queries about Stone and his communications with then-candidate Trump, according to a source briefed on the matter. -CNN
Stone associate Andrew Miller, meanwhile,
has questioned Mueller's authority to lead the Russia probe
- as a federal appeals court considers his request to challenge the constitutionality of Mueller's role. Miller was held in contempt after losing his bid to block a grand jury subpoena from the special counsel, however that ruling is on hold pending the outcome of the US Court of Appeals for the DC Circuit.
Two District Court judges in Washington - one nominated by a Democrat, the other by Trump - have upheld the constitutionality of Mueller's appointment in recent rulings. The hearing Thursday, however, is the first time an appeals court panel, made up of Judges Karen LeCraft Henderson, Judith W. Rogers and Sri Srinivasan, will review the special counsel's authority. -WaPo
According to court filings, Miller's legal team says that Mueller was named special counsel
in violation of the Appointments Clause of the Constitution since he has broad prosecutorial authority and a
"
lack of supervision and control over this conduct,
" according to
The Post
.
Mueller has not provided any timeline for when he intends to complete his investigation, though we imagine "2024" would be about right, should Trump win the 2020 election.
The heat is on
Regardless of what happens to Mueller,
Tuesday's midterm election result flipping control of the House back to the Democrats means they will have the ability to expand investigations into Trump, his businesses and his associates.
On Wednesday, Rep. Maxine Waters (D-CA) told
Bloomberg Television
that she will investigate President Trump's ties to Deutsche Bank if she is elected chair of the House Financial Services Committee.
Meanwhile,
Rep. Adam Schiff (D-CA),
who will lead the House Intelligence Committee, told the
Los Angeles Times
on Monday that
he will revive the investigation into so-called "Russian collusion" - vowing to go after Trump's personal business interests.
"The president has sought to keep that off limits, but if that's the leverage Russians pose that's a real threat to our country," said Schiff.
Schiff insisted in March that there was "more than circumstantial evidence" connecting Trump to Russia, however despite the best efforts of the US-UK-Australian intelligence community and the DOJ/FBI's multi-year counterintelligence "sting" and now probe,
no such evidence has emerged.