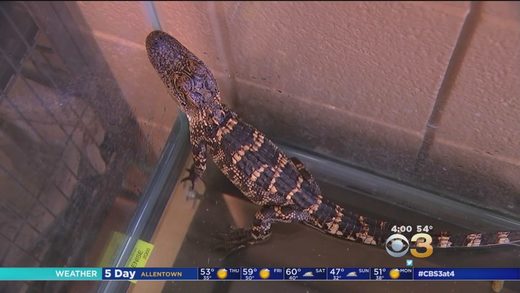 More than
250 snakes, alligators and skunks
were found in a home in Montgomery County on Thursday morning.
Officials say over 100 snakes, three alligators, dozens of guinea pigs, dozens of turtles and even two skunks were found in the home
on the 1000 block of Station Road.
Officials from the Lehigh County Humane Society and the Lehigh County SPCA were on site to assist with the animals that were found.
Officer Tracie Graham of the Montgomery County SPCA calls it
one of the worst cases of animal hoarding she's ever seen.
"The animals were being kept in various stages of neglect," she said. "Whether it be on sanitary conditions lack of food and water."
Graham says the animals were kept and stacked in bins.
"They were stacked in bins, I'm sure you guys saw many of the bins hat were coming out," she said. "Many of them were kept in Tupperware bins. Stacked one on top of the other. Some four or five feet high. The smell is atrocious."
Earlier in the week, Lehigh county officials raided another home connected to the two residents, where they found another 100 animals there, including snakes, dogs and exotic birds.
Officials say two people live in the home. The owners of the animals have not been charged yet, but both Lehigh and Montgomery Counties are consulting with their District Attorney's Offices and expect to file charges. Those charges could range from citations to felonies.
"These charges can range anywhere from summaries all the way up to felonies, depending on the degree of cruelty," Graham says. "It's too early in the investigation to determine what charges will be filed, but I am fairly confident we will be filing charges in this particular case."
You can watch CBS' video coverage
here
.