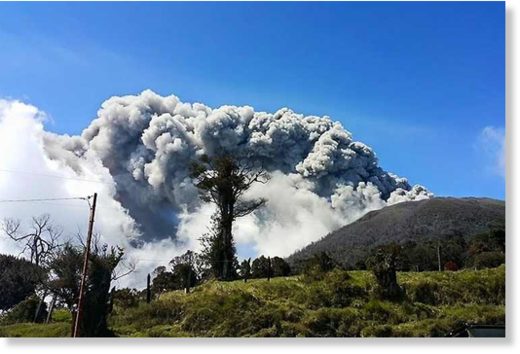 The Turrialba volcano has shown a strong ash emanation on Monday,
after the strong eruptions of the past 12 hours
on this Costa Rican hill in the province of Cartago, some 70 kilometers southeast of San Jose.
A report from the Vulcanological and Seismological Observatory of Costa Rica (Ovsicori) states the Turrialba began its emanations at 22:00 local time this Sunday and still remains, when the column rises to about 500 meters above the crater.
At dawn, Turrialba Volcano is covered with a great amount of ash emanation, which is blowed by the wind towards the northeast with influence on Guapiles, Pocora and surrounding places', in the direction of the Caribbean coast, indicates Ovsicori, belonging to the National University.
The eruptions of the 3,340-meter-high colossus -the second highest in the country after Irazu, measuring 3,432 meters- have been active since January 2010. They generally affect the Central Valley, home to 60 percent of the country's five million inhabitants.
Arenal, Irazu, Poas, Rincon de la Vieja and Turrialba are the five active volcanoes out of the 150 existing in Costa Rica, according to the most recent geological data.