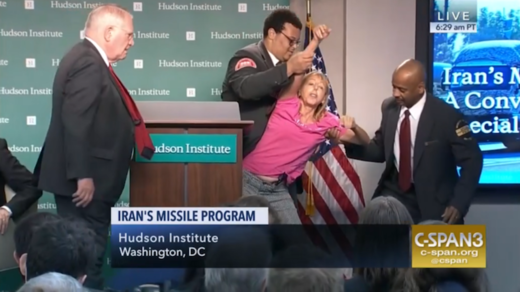 A prominent anti-war activist was dragged out of a meeting attended by the US special envoy to Iran, but not before she stepped onto the stage and took aim at the official's hawkish anti-Iranian speech.
CODEPINK Co-Founder Medea Benjamin stormed the stage of Wednesday's event hosted by the Hudson Institute, a right-wing think tank, following a speech given by US Special Envoy Brain Hook. During the speech Hook took aim at the 2015 Iran nuclear deal while praising the ratcheting up of sanctions against Tehran.
"That is the most ridiculous thing I have seen.The world community wants to keep the Iran nuclear deal," Benjamin said as she took to the stage with a security guard following closely behind.
Responding to Hook's demand that Iran should act "like a normal country," Benjamin continued: "Let's talk about normal countries. Let's talk about Saudi Arabia. Is that who our allies are? They are the biggest threat to the world community."
Moving on to the US-backed, Saudi-led intervention in Yemen, Benjamin attacked a passive Hook for his comments on the conflict, now in its fourth year. "And how dare you bring up the issue of Yemen? It's the Saudi bombing that is killing most people in Yemen."
With three men now trying to remove her, Benjamin said the sanctions against Iran were hurting the Iranian people the most and likened the current US posturing to when it invaded Iraq in 2003.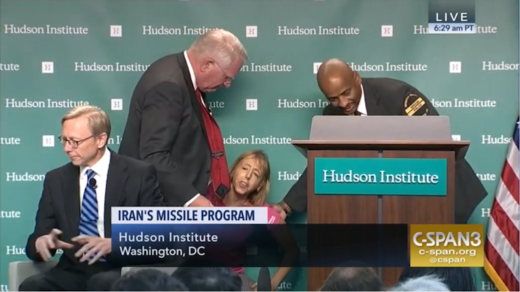 "They're [the sanctions] hurting the Iranian people. You are making a case for war with Iran. How did the war with Iraq turn out? You're doing exactly the same thing we did in the case of Iraq. We don't want another war in the Middle East."
As Benjamin was ejected from the room she shouted "So let's get real. No more war! Peace with Iran!"
After her ejection, Hook, who had remained silent during her comments quipped: "I think she had her coffee this morning."
While
Benjamin's stunt has garnered little or no attention in the mainstream media
, her actions have gained praise on social media for both her anti-war stance and ability to cover so many topics in a short a short space of time.