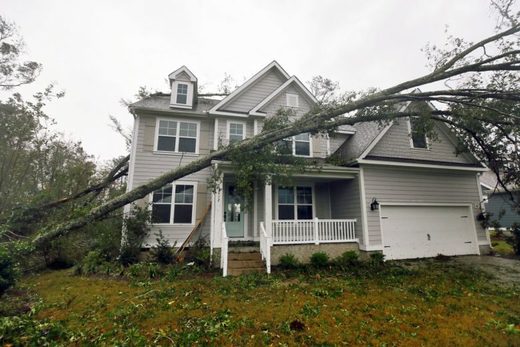 Florence, the powerful storm that has already left at least 12 people dead and about one million without power on the United States East Coast, continued to move inland at an ominously sluggish pace on Saturday (Sept 15), fat with rain and threatening to deliver hardship and devastation far beyond the wind-battered coasts.
A Category 1 hurricane when it plowed ashore near Wilmington, North Carolina, early on Friday, Florence was downgraded to a tropical storm hours later, and the damage of the first blow along the coast was not as bad as many had feared. But an early Saturday report from the National Hurricane Centre had it crawling west at 3.2kmh with maximum sustained winds of 80kmh.
It is likely to mow a path north-west across nearly all of South Carolina, promising a brutal weekend of heavy rain and potential flooding for millions. Storm conditions could also lead to tornadoes and landslides, officials said.
The centre of the storm is expected to head west through South Carolina before turning north on Sunday.
Rainfall in North Carolina has broken a state record, according to preliminary reports from the National Weather Service. More than 76cm were recorded in Swansboro, North Carolina. The previous record of 61cm was set in 1999, when Hurricane Floyd pounded the region.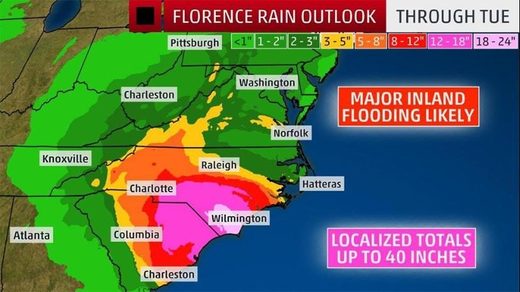 The 12 storm-related deaths include a mother and child who were killed after a tree fell on their home in Wilmington; Ms Amber Dawn Lee, 61, a mother of two who was driving in Union County, South Carolina, when her vehicle hit a tree in the road; three people in Duplin County, North Carolina, who died because of flash flooding on the roadways; and a couple who died in a house fire in Cumberland County, North Carolina.
Local, state and federal officials are rushing to rescue people stranded in half-submerged homes across the region. So are many volunteers, including Mr Tray Tillman, 26, a construction foreman who was part of a makeshift rescue flotilla that has plucked hundreds of stranded people from attics, second-floor bedrooms, church vestibules and crumbling decks.
Much of eastern North Carolina on Saturday was still reeling from Florence's first powerful punch. In coastal Wilmington, driving rain continued to drench the city, wind gusts blew debris through nearly deserted streets, and power lines snaked across highways and suburban streets. Police Chief Ralph Evangelous urged residents to stay home. A curfew was in effect from 10pm to 6am.
"This storm is not yet done," said County Manager Chris Coudriet, warning of continuing rain and winds.
But after nearly three days of punishing rains and winds, people in this coastal city were desperate for food, water and petrol. When the first grocery store reopened in south Wilmington, the results were predictable.
"Everybody rushed the doors - it got crazy," said Detective Bill Ostrosky of the Wilmington Police Department.
Hundreds of people sloshed through floodwaters and parked at awkward angles when word got out that a Harris-Teeter grocery had opened at midday. The store was nearly overrun before police arrived and set up an orderly line, letting new shoppers in as others exited with loaded carts.
Power was also restored to a nearby Exxon station, attracting a line of cars that stretched for half a mile. Roughly 50 other people arrived on foot in a driving rainstorm, toting red five gallon petrol containers.
Mr Mason Fowler, 41, was among them. After standing for 10 minutes in rain that sometimes blew sideways, he began to despair that he would ever reach the pumps. "This just might be an exercise in futility."
More than one million power failures have been reported, according to the Department of Energy. More than 840,000 were in North Carolina - knocking out power for almost one-fifth of the state. But like their neighbors to the south, North Carolinians knew that they were likely to face days of flooding from engorged rivers long after the immediate drama of flying shingles and TV newscasters staggering in the squalls.
"There is a lot of rain to come," said Mr Jeff Byard, associate administrator for response and recovery at the Federal Emergency Management Agency. He spoke during a news conference on Saturday where a snapshot of the federal response so far emerged. The Coast Guard said 43 aircraft had rescued five people. The Army Corps of Engineers was engaging in a US$6.1 million (S$8.4 million) response, monitoring federal dams, helping with rescues, and deploying pumps and portable barriers.
And while officials pleaded with residents not to try to drive on flooded streets, and warned that the slow-moving storm still posed a serious threat, they also began preparing for what will most likely be a long and costly recovery.
Some who had evacuated returned home on Saturday evening to survey the damage. Ms Tanya Caulder of Coward, South Carolina, found a giant tree in her front lawn after spending two nights at a shelter. Fortunately, the tree had fallen away from the house and just missed the pump house, which her family used to get water.
But Ms Caulder, who had stayed at the shelter with 12 relatives, said she was still worried about flooding. During Hurricane Matthew, she said, the nearby Lynches River had sent water into her mobile home. All 13 members of the family would be staying at the house that night, she said, since only her place still had power.
"But if I see water come up in the backyard, I'm out of here," Ms Caulder said.
President Donald Trump's major disaster declaration, approved on Friday, paves the way for millions of dollars in aid for storm victims. Mr David Maurstad, chief executive of the National Flood Insurance Programme, said the programme was readying to address claims.
In Wilmington, the waters of the Cape Fear River were grey and roiling at daybreak. With up to 50cm of rain forecast, roads were flooded in some low-lying areas and along stream and river banks. Emergency authorities warned that widespread flooding was still a threat from the storm's trailing bands.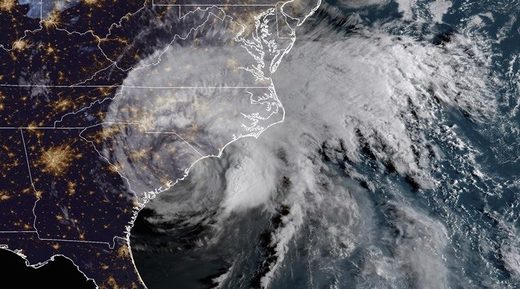 Mayor Bill Saffo said the river was expected to crest next week. Governor Roy Cooper of North Carolina said the river could cause inland flooding as severe as it was during Hurricane Matthew, which flooded several eastern North Carolina towns in 2016.
Up the coast in the graceful, historic city of New Bern, officials reported that they had rescued more than 385 people by Saturday morning as water from the Neuse and Trent rivers turned neighbourhoods into lakes. Ms Colleen Roberts, a city spokesman, said that more than 1,200 people remained in local shelters, and 7,000 local power customers were without electricity as of Saturday morning.
As rescue boats raced across New Bern on Friday, the inland city of Lumberton, North Carolina, had scrambled to shore up a vulnerable spot near the Lumber River, which flooded much of the city in 2016. Ms Emily Jones, a spokesman for Robeson County, North Carolina, said that dozens of volunteers helped fill 5,000 sandbags on Friday in an effort to plug the hole.
On Saturday, they were watching the skies and praying that it would hold. The river, rising to 2m on Friday afternoon, was expected to swell as high as 5.8m. Flood stage, she said, was at 4m.
"The winds are tapering off, but we still have a lot of rain," she said. "The concern is the aftermath, and the flooding of the rivers surrounding us."
Further west, in Charlotte, the National Weather Service predicted that parts of the metro area were at "high risk" of flooding; if the forecast of 22cm to 30cm of rain bore out, the service warned, "significant flash flooding will be highly likely". In South Carolina, more than 150,000 power customers were also in the dark.
In Myrtle Beach, where fears of widespread destruction ran high a couple of days ago, most of the oceanfront appeared to have weathered the hit, though officials were still assessing the damage throughout Horry County - and they were wondering if the worst was yet to come.