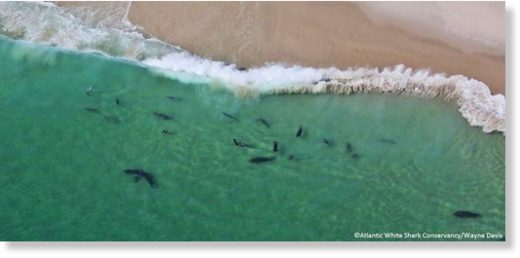 Shark experts are baffled by a
sudden surge in shark sightings and encounters in Massachusetts - including the state's first attack since 2012.
Marine biologists spotted 149 great whites off Cape Cod in July,
more than double seen in the region last year.
Cape Cod is only a few miles north of Martha's Vineyard, better known to locals as Amity Bay - the island where the Jaws films are set.
The local authority have expressed concern about the safety of beachgoers in the coming weeks, especially when lifeguards stand down.
The warnings come after a 61-year-old New York resident
escaped a shark attack off Truro, Massachusetts
with severe injuries to his leg and arm earlier this month.
Researchers are still working to find out what kind of shark was involved in the attack, but survivor William Lytton admitted he took an "unnecessary risk".
Mr Lytton had been swimming alone in fairly deep water when he was attacked, despite being only ten feet from shore.
He urged other beachgoers not to make the same mistake, advising them to "maybe just stay in waist-high water."
The waters between Cape Cod and New Jersey are considered a white shark "nursery" where great whites spend the first years of their life before gradually expanding their territorial reach.