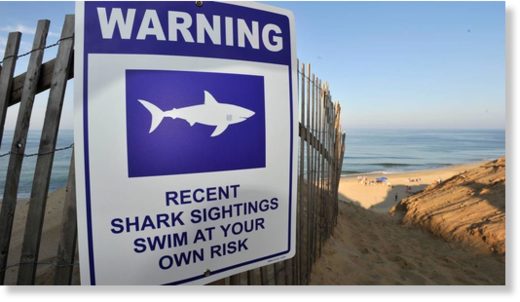 A man was
attacked by a shark
while swimming off a Cape Cod beach Wednesday, and suffered what one witness called a "very serious" injury,
Cape Cod Times
reported.
A town official in Truro, where the attack occurred, said the 61-year-old man suffered "deep puncture wounds to the hip and torso area," and had to be taken to the hospital by helicopter, according to boston25news.com.
Before he was taken to a hospital in Boston, the man said he was standing in ocean water 30 yards from the Long Nook Beach when he was attacked by the shark, per WCVB.
There is no word on the man's condition, but the beach was closed after he was attacked at about 4:15 p.m., the
Boston Globe
reported.
"They were conscious and talking, so we're hoping for the best," Truro Fire Chief Timothy Collins said, per
Cape Cod Times.
One witness who claimed to help pull the man out of the ocean said the shark-bite victim was yelling for help, repeatedly saying "
Get me out of the water,
" according to turnto10.com.
Once he was on the beach, two recent graduates of the Boston College School of Nursing used towels to stop the bleeding before help arrived, per WCVB.
Two hours later, a news helicopter tweeted footage of a shark in the area "near the scene" of the attack.
While sharks are regularly spotted along the coast of Cape Cod, there was no advance warning in place to alert swimmers at Long Nook Beach.
According to the Harbormaster, there are no lifeguards at Long Nook Beach, so that level of protection was not available to spot sharks, according to boston25news.com.
The shark that attacked the man might have been drawn to the area looking to feast off great white's preferred source of food — seals.
Cape Cod Times
reported that "at least 10 seals also were seen" near Long Nook Beach prior to the attack.
It has been 6 years since the last time a person was attacked by a shark near Cape Cod, per WCVB. That man needed 47 stitches and his tendons had to be surgically repaired, according to
Cape Cod Times.
The last fatal shark attack in Massachusetts was reported in 1936, when a teen was killed, the
Boston Globe
reported.