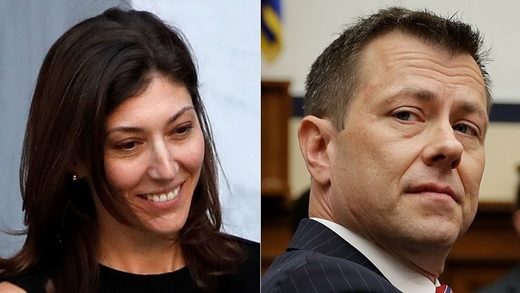 Emails between top former FBI brass show at least one official using a Yahoo! account on an iPad to discuss sensitive information Other emails show Strzok also seemingly mocking people with disabilities
New emails between former FBI lovers, Peter Strzok and Lisa Page reveal that FBI officials used unsecured devices to discuss sensitive information.
Judicial Watch announced Thursday that it has received 47 pages of Department of Justice records from a January 2018 FOIA lawsuit. U.S. District Judge Reggie B. Walton ordered the FBI to process 13,000 pages of documents of communications between Strzok and Page. However, as the watchdog organization points out, "The FBI refuses to timely process the records and will not complete review and production of all the Strzok-Page materials until at least 2020."
Judicial Watch writes.
"In a January 30, 2016 email exchange sent entirely over unsecure devices, top former FBI officials including General Counsel Jim Baker, Deputy Director Andrew McCabe, Strzok, Page, unidentified individuals from the DOJ's National Security Division and NSA General Counsel Glenn Gerstell, discuss a draft document with the subject line: "Revised IC Safe Harbor Letter (from [redacted] using [redacted] iPad)."

Baker notes in the exchange that he is attempting to work on the document using his smartphone: 'So it is not possible to read the redlines on my smartphone. If you are still at the office, can you please save the redline version as a PDF and then resend? Thanks.'

Also, in the exchange, Strzok writes to Page "AND [GOD***MIT] GIVEN EVERYTHING GOING ON WHY IS [redacted] USING A YAHOO! ACCOUNT FOR THIS? (Actually, apparently a Yahoo! Account from [redacted's] iPad. Make him stop!!!!!!'"
The watchdog organization notes that according to experts, iPads are easily hacked, and Yahoo! has encountered multiple security breaches in recent years, with millions of accounts hacked.
The email release also shows Strzok apparently mocking individuals with disabilities in one of his exchanges with Page.
On January 28, 2016, Strzok wrote, ""Cool - I have three pieces of mail for 7
th
floor - what's the easiest way to get them into the system there rather than waiting on Melwood mail system?"
Melwood is a Maryland-based non-profit organization which provides employment and job training to individuals with disabilities. The FBI employs people from Melwood and has even
given awards
to them.
Judicial Watch President, Tom Fitton says,
"Here we see the top echelon of U.S. cyber security and law enforcement officials looking like Keystone Cops. And the emails show Strzok's extreme lack of professional behavior in his FBI communications. Judicial Watch is frustrated by the FBI's slow roll of documents at a rate that will not see all releasable Page-Strzok documents provided until 2020."