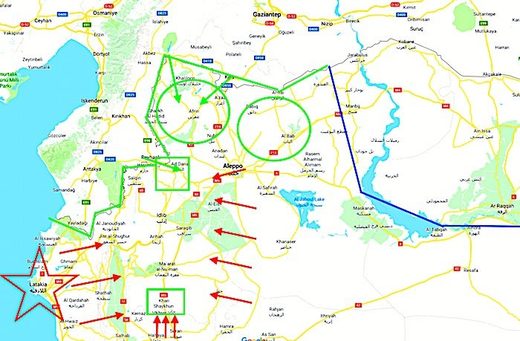 Turkish President Recep Tayyip Erdogan can't stop an imminent Russian-Syrian-Iranian axis
offensive
against Idlib province, but he is complicating that endeavor in a number of ways.
First off, Erdogan is reinforcing Turkish control over arterial supply routes that connect Idlib with Turkey. As first reported by the Syrian Observatory for Human Rights on Thursday, Turkish military convoys are moving armored vehicles, including tanks, toward Turkish observation posts (small military bases) in Idlib. This reinforcement is designed to ensure that Turkish forces can defeat any attacks by Bashar Assad's military or militias. The Turkish military and Assad despise each other, so the potential for a conflagration is significant.
But Erdogan also wants to show Russian President Vladimir Putin his profound dissatisfaction at the axis offensive. While Erdogan
should have seen
this development coming, he hopes that putting tanks in the axis path will deter it from acting with extreme aggression. Note that Turkey is focused on ground operations here because Idlib and western Turkey are in comfortable range of Russia's S-400 air defense system at Latakia. While Turkey could destroy that system and overwhelm Russian aircraft in Syria, it won't go that far and spark a major conflict with Putin.
As my annotated Google map below shows (relying on
SyriaLiveMapUA
and my own research),
Turkey (green lines) is reinforcing the northern approaches into Idlib
(
green arrows and northern green square
)
so as to prevent the axis from dominating Turkish freedom of movement. Turkey already controls northern Syria's border area (green circles).
Erdogan's riskiest gambit is in attempting to retain control over the approaches to rebel-held Khan Shaykhun in southern Idlib (southern green square) from regime-held Hama.
Axis forces must seize Khan Shaykhun in order to secure the northern arterial M5 highway and thus push north, and Erdogan is attempting to deter them from going through him.
The problem for Turkey is that its observation post at Khan Shaykhun (and smaller observation posts in eastern and western Idlib) are surrounded by axis forces (red arrows) on all sides
. They also sit in easy striking range of the S-400 systems (red star).
Finally, the U.S. military and its coalition partners are far away from Idlib (blue line).
And that means the axis is ultimately going to win here. Putin will press Assad to leave Turkish forces alone. Then, when the moment comes, he will call up Erdogan and tell him to evacuate his southern strongholds or face attack. Erdogan is highly likely to comply. But that's not all bad news. After all, the axis cannot control Turkey's border with Syria.
That will permit some civilians to evacuate the axis bloodletting.
As the axis operation continues, Syria, Russia, and Iran should face new sanctions for their anticipated slaughter of civilians (the Russians are already bombing hospitals to maximize the death toll). And if Assad uses chemical weapons again (he used a Sarin nerve agent variant against Khan Shaykhun in 2017), he should face
devastating U.S.-allied military retaliation
.