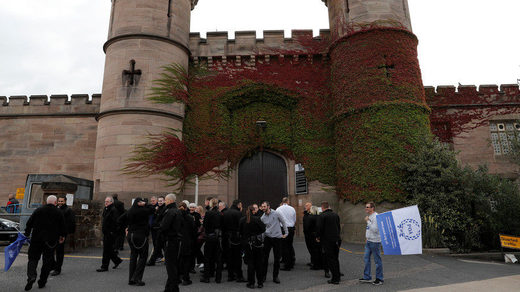 A Prison Officers union leader has called on all staff at jails in the UK to walk out in protest of the "unprecedented" levels of violence being perpetrated against them, saying he's fed up at hearing of members being "attacked."
Prison Officers Association (POA) General Secretary Steve Gillan made the demand of all members in England and Wales on Friday to go on protest at 7am, "until instructed otherwise."
Gillan told the Mirror that his members had every right to stage a mass walkout under health and safety legislation, saying that he was fed up at the acts of violence his members had to endure, including having "excrement and urine thrown at them."
"Under legislation the government and employer have a duty of care toward my members, and I'm fed up of hearing of my members receiving smashed eye sockets, broken arms, broken legs, broken jaws, being attacked, spat on, having excrement and urine thrown at them, and enough is enough now," he said.
"We need ministers to start taking control of what's going on."
The drastic action being taken by the POA is being phrased as a "protest" due to the government outlawing strike action. The union claims to have 20,000 members in England and Wales - 90% of all prison staff.
Gillan said prison officers are now suffering 25 assaults a day - up a quarter on the year and nearly triple the number in 2010.
He told TalkRadio: "The correlation of that with the budget cuts we have endured just can't be ignored any longer."
Prisons minister Rory Stewart called the action "irresponsible" and "unlawful," insisting contingency plans were being put in place to counter the action.
"Prison officers do vital and important work and we urge them to return to their duty stations, in line with their obligations to the law and the Prison Service," he said.
"It's irresponsible for the POA to encourage their members to take this unlawful action.
"We are deploying our contingency plans but, by not turning up for work, these prison officers are putting their fellow staff and inmates at risk."