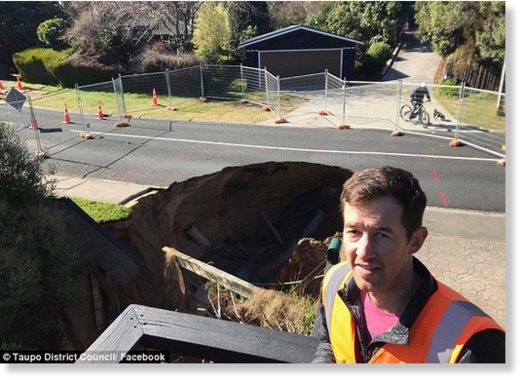 A sinkhole that consumed a significant part of a suburban road was discovered by two teenage boys who noticed a water broken water pipe.
The two 13-year-olds were cycling down the suburban street in Taupo, near the centre of New Zealand's North island, when they noticed a fence began to sink into the ground.
Jono Park rang emergency services, while Bailey Malloy went to alert neighbours that were located directly near the sinkhole.
The boys then immediately moved their bikes to safer ground and rang their parents.
Jono's mother, Anna Park, a Taupo District Councillor, quickly relayed the information to the council team.
'Jono rang 111, the fire brigade, and Bailey went to 12 and 14 Arrowsmith Ave as they were right where the incident was happening. Luckily nobody was at home,' Ms Park told the
New Zealand Herald.
Within 45 minutes the footpath began to collapse, and in no time one lane of the street completely gave way.
The sinkhole was between five and six metres deep and took out a grass berm and a fence.
Neighbours who heard the sinkhole open up told
stuff.co.nz
that it sounded like boulders crashing down a hill.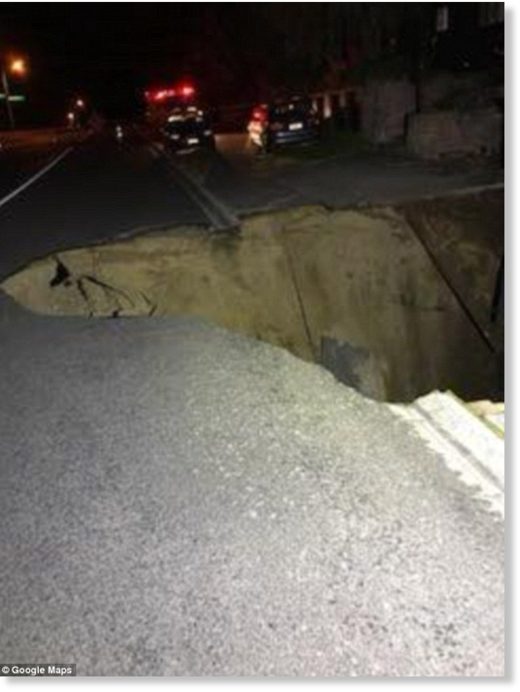 Council confirmed that the sinkhole was formed by a 150mm water main break, which affected up to 20 surrounding properties.
The sinkhole has since been assessed and isn't believed to pose any further risk to the area.
'The area is fenced off and the road will remain closed for some time. Detours are in place. Please avoid the area where possible,' Taupo District Council posted to Facebook.