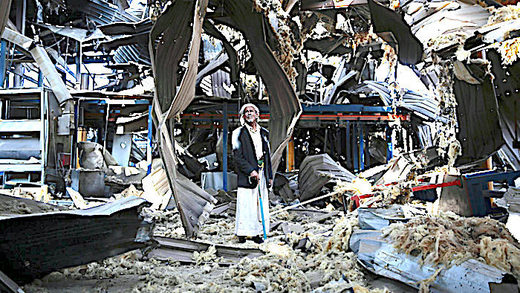 Four Saudi warplanes launched airstrikes against the UNICEF-funded al Asayed Water Network, destroying water pumps, an electric generator, a nearby solar energy system, and a guard room. Much of the facility was destroyed in the attack,
leaving thousands of residents of the Al Safra district of Yemen's Saada governorate, including internally displaced families, without clean drinking water.
Mohammed Kamel - an engineer with the National Foundation which operated the Water Network - said in a statement to MintPress:
Saudi airstrikes targeted the main well of the Water Network, as well as the pump room, generator and solar system. This water project was providing more than 25,000 people in Noshour district as well as the 20 villages around Noshour with clean drinking water. It was completed at a cost of $650,000"
MintPress News
obtained the following photos showing the aftermath of the Saudi strike: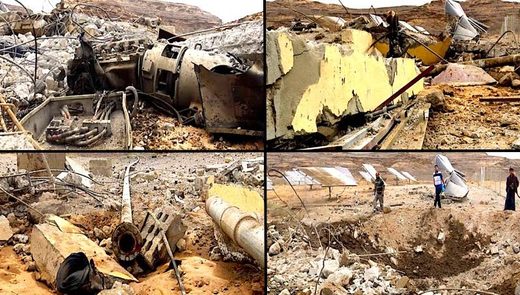 The United Nations Children's Fund (UNICEF) strongly condemned the attack
saying in a statement
released on its website:
A large water facility in Sa'ada, northwest of the country, came under attack this week. This is the third such attack on the same facility. More than half of the project is now damaged, cutting off 10,500 people from safe drinking water."
"Continuous attacks on water systems in Yemen are cutting off children and their families from water; increasing the likelihood of water-borne diseases spreading in the war-torn country," the statement added.
Local Noshour resident 35-year-old Asman Ali told
MintPress
"Four airstrikes targeted our water network, our only source of water ... where are we supposed to get water for our children?" According to a statement by the United Nations,
the attack has left as many as 5,000 children without water.
Hardly an accident
The U.S. backed Saudi-led coalition has repeatedly, systematically and deliberately attacked water and sewage treatment infrastructure in Yemen since it began its military campaign against the country in 2015. According to a statement to MintPress by the Legal Center For Rights and Development, an organization that tracks Saudi Arabia's violations on international law in Yemen,
727 water pumps and tanks have been destroyed since 2015.
In one prior incident, a Saudi attack left the Al-Hamazat water system, located in the Sehar district east of Noshour, completely destroyed, leaving 7,500 people, including internally displaced families, without water. The same water system came under attack and was destroyed in 2015.
In an effort to protect Yemen's vital water treatment facilities from airstrikes, the organizations overseeing them provide coalition forces with maps showing the locations of the facilities and indicating their responsibility for running them, a fact echoed by the organizations following each attack.
The latest attack comes amidst
a second wave of cholera
that has killed thousands of Yemenis. Contamination of water resources, as well as the lack of access to clean drinking water, are the main causes of the cholera epidemic. According to a recent report from the World Health Organization (WHO) issued on July 20, Yemen is suffering the worst cholera outbreak in recorded history.
Even before the war, Yemen was among the world's most water-scarce countries. Access to drinking water is extremely costly for the most vulnerable people in Yemen. Some
8.6 million children in Yemen don't have sufficient access to water, sanitation, and hygiene services. A situation exacerbated by Saudi-led coalition attacks.
Ahmed Abdul Kareem is a Yemeni journalist. He covers the war in Yemen for MintPress News as well as local Yemeni media.