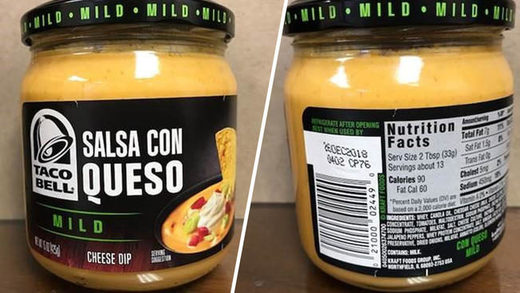 Kraft Heinz Co
said
on Tuesday it was voluntarily recalling about 7,000 cases of its Taco Bell Cheese Dip as the product showed signs that it could allow for the growth of the bacteria that causes botulism.
The company said it was recalling 15-ounce cases of it's Taco Bell Salsa Con Queso Mild Cheese Dip that had "best when used by" dates ranging from Oct. 31, 2018, to Jan. 23, 2019.
"Consumers are warned not to use the product even if it does not look or smell spoiled,"
the company said in a press release.
Botulism is a rare but potentially fatal form of food poisoning that attacks the body's nerves and can cause paralysis.
It's sometimes linked to contaminated food, primarily improperly home-canned, preserved, or fermented foods
, but does appear sometimes in store-bought foods.
The Associated Press, citing health officials, said that commercially canned foods are typically heated long enough and to high enough temperatures to kill the spores that otherwise can grow and produce the toxin.
"Food packaged in defective cans, including those with leaky seams, can become contaminated because the bacteria can be sucked into the containers as the product cools," the media outlet
reported
.
According to the Centers for Disease Control and Prevention, symptoms of
botulism
"usually start with weakness of the muscles that control the eyes, face, mouth, and throat."
"This weakness may spread to the neck, arms, torso, and legs. Botulism also can weaken the muscles involved in breathing, which can lead to difficulty breathing and even death," the federal agency added.
Anyone who believes they have botulism should go to the nearest emergency room immediately;
people can die
if they don't get proper medical treatment quickly.
Kraft Heinz said no cases of botulism from the Taco Bell Cheese Dip have been reported.
The recall follows a number of recent recalls by other major packaged food companies

including Kellogg Co's Honey Smacks cereal, Campbell Soup Co's Goldfish Crackers, and Mondelez International Inc's Ritz Crackers due to potential salmonella contamination.