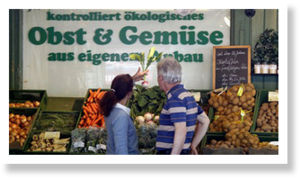 Berlin - Scientists in Europe are racing to locate the source of a bacterial outbreak that has killed at least 16 people, sickened hundreds more and disrupted food markets across the continent.
"Don't eat your salad, it's not good for you," parents in Germany tell their children these days, in a bizarre reversal of the usual healthy diet sermon. To blame is a bacterial epidemic that has killed 15 people in Germany as well as one woman in Sweden and continues to roll across northern Europe.
Officials from the Robert Koch Institute, a respected German health science facility, warned that further deaths are likely.
Scientists suspect the outbreak is linked to vegetables contaminated with the enterohaemorrhagic
E.coli
bacterium but they haven't located the exact source.
The first cases were reported in Hamburg, Germany, and the disease, which can cause fever, bloody diarrhea and kidney failure, has since spread across the continent. There have been dozens of confirmed cases in Denmark, Sweden, the Netherlands, Austria and Britain.
After finding cucumbers imported from Spain contaminated with EHEC in Hamburg, German health experts suggested -- but had no proof -- that the outbreak originated in the southwestern European country.
This has sparked angry reactions from Spanish officials, who have blamed the Germans of damaging the Spanish food industry, a major exporter to the rest of the continent.
Other reports suggested that produce from the Netherlands and Denmark could be linked to the outbreak.
Russia banned imports of cucumbers, tomatoes and salad from Spain and Germany and has threatened to extend the ban to produce from across Europe.
Austrian and Italian authorities have sent inspectors to supermarkets to remove Spanish vegetables.
Spanish Agriculture Minister Rosa Aguilar said Tuesday that the domestic food industry is losing $288 million per week on claims that Spanish vegetables are contaminated. Spanish agricultural products "are safe," she said.
German officials, meanwhile, are continuing their hunt for the source while developing test methods and possible treatments.
The EHEC bacterium is usually found in cattle and health officials have suggested that it may have spread to vegetables via fertilizing with cow manure.
Officials have asked people to wash their hands regularly and stop eating raw vegetables to protect themselves. Best buy produce from a local farmer, they suggested.