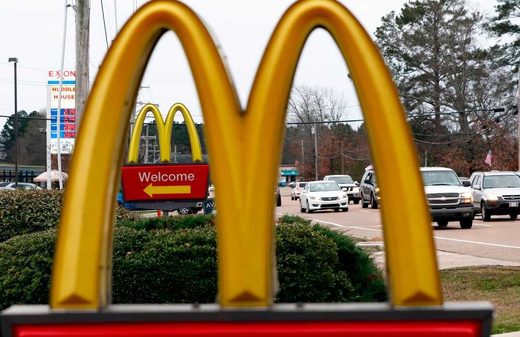 The number of people sickened by tainted McDonald's salads has jumped to 163 in 10 states. Three of the victims have been hospitalized.
The U.S. Food and Drug Administration said the problem is caused by the
Cyclospora parasite that is transmitted in foods contaminated with fecal matter.
Last week, the number of cases was 61 people in seven states - 29 in Illinois, 16 in Iowa, seven in Missouri, three in Minnesota and two each in Nebraska, South Dakota and Wisconsin.
An updated state-by-state breakdown wasn't immediately available.
McDonald's voluntarily stopped selling salads last week at about 3,000 restaurants in 14 states -- Illinois, Iowa, Indiana, Wisconsin, Michigan, Ohio, Minnesota, Nebraska, South Dakota, Montana, North Dakota, Kentucky, West Virginia and Missouri -- until they were able to switch to another lettuce-mix supplier.
"We have removed lettuce blend provided by Fresh Express' Streamwood, Illinois, facility," the fast-food burger chain said in a statement Friday. "Many restaurants already have a new lettuce blend supply, while we expect all identified restaurants will have new supply in the next few days."
The illnesses
started on or after May 1,
according to the FDA. The sick people are between the ages of 16 and 87 years old and 66 percent are female. No deaths have been reported.
"At this time, despite the intensive investigation by federal authorities and state health agencies around the country,
no source has yet been named for this outbreak,"
Fresh Express said in an e-mail. "The decision by McDonald's to change suppliers of certain components should in no way suggest that Fresh Express is implicated as a source."
Illnesses that started after June 7 may not have been reported yet because there's a lag time between when people get sick and when they report it
, the FDA said. For Cyclospora infections, it may take up to six weeks to be clearly identified.
"McDonald's is committed to the highest standards of food safety and quality and we continue to cooperate and support regulatory and public health officials in their investigations," the company said.
The most common symptom of Cyclosporiasis is watery diarrhea, according to the Centers for Disease Control and Prevention.
The CDC said there's no evidence suggesting the McDonald's salad outbreak is connected to the ongoing Cyclospora outbreak linked to Del Monte vegetable trays.