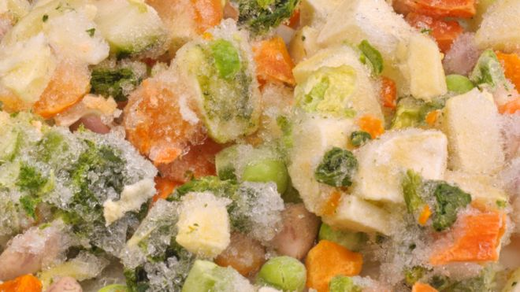 Six of the UK's most popular supermarkets have been forced to recall various frozen vegetable products due to concerns over possible listeria contamination.
Aldi
,
Lidl
,
Iceland
,
Sainsbury's
,
Tesco
and
Waitrose
have all recalled frozen veg, including packets of sweetcorn and mixed vegetables, because they could contain Listeria monocytogenes, which can cause
listeriosis
.
Health organisations recently warned that an outbreak of the bacterial infection across Europe had been linked to
frozen vegetables that were not cooked properly
.
According to the European Food Safety Authority (
E
fsa
)
, there have been
47 cases of listeriosis
as of 8 June, nine of which have resulted in death.
On Friday, the UK Food Standards Agency issued a list of dozens of
products distributed by Greenyard Frozen, a Belgium-based supplier.
The FSA said Greenyard "has taken the precautionary step of voluntarily recalling various frozen vegetable products because they might contain Listeria monocytogenes".
The agency said in its recall notice that "symptoms caused by this organism can be similar to
flu and include high temperature, muscle ache or pain, chills, feeling or being sick and diarrhoea".
Some people are more vulnerable to listeria infections, including those over the age of 65, pregnant women and their unborn babies, babies less than one month old and people with weakened immune systems.
The FSA advised anyone who has purchased the products affected by the recall not to eat them and to return them to wherever they were sold.
The following products are covered by the recall:
Pinguin frozen Sweetcorn
Pinguin Supersweet Sweetcorn
Tesco frozen Broccoli, Carrot and Sweetcorn Steamer
Tesco frozen Every Day Value Sweetcorn
Ross Mixed Vegetables
One Stop frozen Sweetcorn
Aldi Four Seasons frozen Vegetable Steamers
Aldi Frozen Four Seasons Mixed Vegetables
Pinguin Sweetcorn
Aldi Four Seasons Supersweet Sweetcorn
Waitrose Essential Supersweet Sweetcorn
Waitrose Essential Mixed Vegetable
Tesco frozen Mixed Vegetables
Waitrose Fine Cut Vegetable Steamer
Waitrose Love Life Vegetable Medley Steamers
Sainsbury's frozen Special Mixed Vegetables
Growers Pride Mixed Vegetables
Sainsbury's frozen Basic Mixed Vegetables
Sainsbury's frozen Rice Broccoli and Sweetcorn
Tesco Frozen Growers Harvest Carrot Peas and Sweetcorn Steamer
Tesco Frozen Growers Harvest Mixed Vegetables
Lidl frozen Green Grocer Supersweet Corn
Tesco Growers Harvest frozen Mixed Vegetables
Lidl frozen Freshona Vegetable Mix
Iceland frozen Mixed Vegetables
Pinguin frozen Mixed Vegetables
Independent Mix Vegetables
Ross Mixed Vegetables
Pinguin Mixed Vegetable
Pinguin frozen Cut Beans
Growers Pride Mixed Vegetables
Ross Mixed Country Vegetables
Growers Pride Supersweet Sweetcorn
Pinguin frozen Golden Rice and Vegetables
Growers Pride Supersweet Sweetcorn
Ross Sweetcorn
Tesco Frozen Sweetcorn
Tesco frozen Mixed Vegetables and Peppers
Tesco Broccoli Frozen Sweetcorn Peas and Spinach Steamer
Sainsbury's frozen Mixed Vegetables
Sainsbury's frozen Carrot Broccoli and Sweetcorn