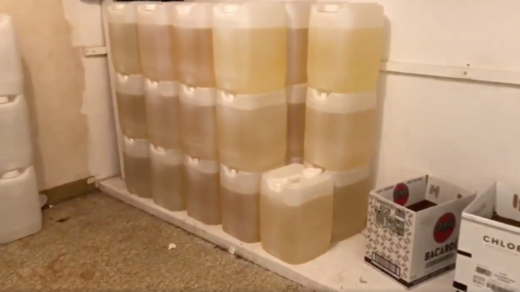 A resident of a Miami Beach condo was arrested just before he set his apartment complex, with "all of the f**king Jews" inside, on fire. The 72-year-old Neo-Nazi told cops arresting him that he'd wanted to have "a small barbecue."
After being served with an eviction notice, Walter Stolper, 72, apparently
decided
to take revenge and burn down the building by pouring gasoline down the drain line of the Miami Beach apartment complex.
To help the flames spread and make sure the place burned down completely -along with "with all the f**king Jews"- the "very, very, very dangerous" person planned to use two fans. To further his sinister plan, he tampered with smoke detectors inside the building and placed a padlock on the complex's fire hoses, to prevent rescue teams from extinguishing the blaze, the police report of Thursday's arrest read.
After receiving a tip-off about the planned arson, Miami Beach police officers rushed to the scene where they found Stolper in the parking garage moving two plastic gas containers using a shopping cart. Eight more containers were then discovered by the authorities in the garbage chute dumpster. In addition, the chute itself was soaked with gasoline, which the suspect had poured down from the 15th floor, police said.
"I bought the gas to make a small barbecue," Stolper told detectives, the arrest report said.
After searching the man's apartment police officers were astonished to find swastikas and Nazi books, along with two electrical fans and weapons. Further investigation revealed that Stolper's storage room in the building was packed with 28 additional containers full of gasoline, sulfur powder, and potassium nitrate.
"Inside of the unit, we found Nazi reading material as well as a swastika. This again is a very, very, very dangerous individual. Our detectives also seized two firearms," Miami Beach Police Department spokesperson Ernesto Rodriguez
told
local reporters.
After gathering the necessary evidence and arresting the individual, Stolper was charged with first degree attempted arson and attempted murder. The state attorney's office is also considering hate crime charges.
"His motivation appears to be triggered by an upcoming eviction and anger towards Jewish neighbors," the police tweeted Friday.
The accused was transferred to Turner Guilford Knight Correctional Center in Miami. His bond has yet to be determined.