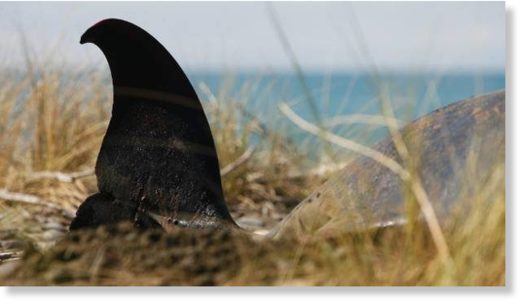 Two whales which were stranded and died at Māhia Beach are the latest in a string of whale beachings in the area.
On Monday afternoon Department of Conservation community ranger Sandra Groves said the organisation was made aware of two pygmy sperm whales which were stranded at the Hawke's Bay beach.
A young male calf was found dead on the beach, and a decision was made to euthanise the mother, Groves said.
Both whales were in a reasonable condition with no visible signs of injury.
Burial of the whales was organised in discussion with local iwi. Samples and measurements were also taken to be sent to Auckland University.
"It is not fully understood what causes whales to strand, but with this species strandings often occur at this time of year at this location," Groves said.
"In the last fortnight, rangers attended to three other pygmy sperm whale strandings at the same location and it is not unusual for 20 to 30 whales to strand in a year. It isn't an uncommon occurrence."
Pygmy sperm whales are not much larger than many dolphins, about 1.2 metres in length at birth.
They grow to about 3.5m with adults weighing about 400 kilograms.
Pygmy sperm whales are found throughout temperate and tropical waters of the Pacific, Indian and Atlantic oceans.
Māhia Beach is just west of Māhia about 170 kilometres northeast of Napier.
A sperm whale was
found dead
on a beach near Blenheim on Saturday and in December, an 18m sperm whale was
found dead
on Māhia Beach.
The strandings come after a
rare southern right whale
has made Wellington Harbour its home, causing the city council to postpone its Matariki fireworks.