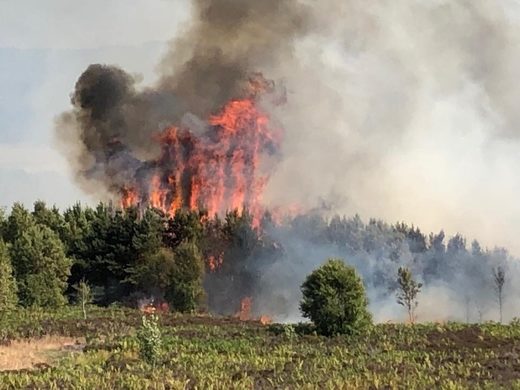 A FIRE has broken out near
Cullingworth
Moor in Bradford. West Yorkshire Fire & Rescue Service says four fire engines are at the scene. The fire is reportedly on heathland between
Harden
and Cullingworth, known as Catstones Moor, according to a source.
Another source said: "I believe the fire is between Cullingworth, Ryecroft and The Guide Inn, at Hainworth Shaw,
Keighley
." One onlooker could see smoke building on the moor, from the nearby Cullingworth Gala.
Fearne Grist said: "The flames are spreading bad." Sulley Baynham said: "It's now spreading across and lighting the woodland, so potentially could become alot bigger especially as it nears the St Ives woodland estate. He added:
"There's limited access for fire crews due to the location."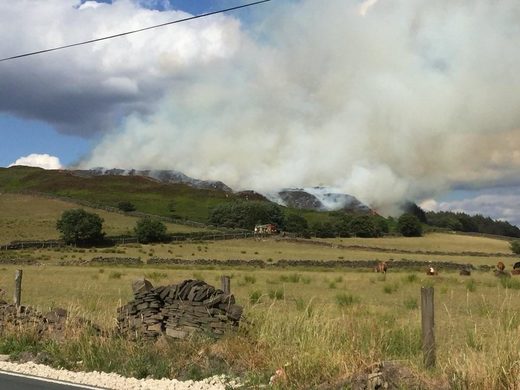 The fire on Cullingworth Moor is spreading to woodlands now.
Olivia Kent, of
Wilsden
said:
"The last time I saw Catstones Moor on fire must've been the early 80s.
I do remember it well as my grandad and I walked on the moor regularly when I was a tot." She added: "It's now 5pm and we can smell the smoke across in Wilsden. I sincerely hope the firefighters can put this to bed swiftly."
Jayne Coates said: "The fire is right at the back of the fields where we keep our horse, all horses safe and stabled but smoke is bad. "It's scary,
we could hear it crackling from the yard."
Two fire engines from
Skipton
and Grassington are currently on route to assist crews from West Yorkshire Fire and Recue Service that are already at the scene.
A close-up
video
of the fire on the moor near Cullingworth.
Comment:
Keighly News
reports
:
FIREFIGHTERS are tackling a grass fire at Catstones Moor, near Cullingworth.

West Yorkshire Fire & Rescue Service says four fire engines are at the scene.

The brigade has warned people to take extra care when out and about in the countryside during the current warm, dry spell.

It has had to deal with an unprecedented number of grass fires in the past fortnight.

In a four-day spell alone, crews were called out to tackle

more than 430 fires

in the open.

And specialist wildfire units, including one based at Keighley, have been helping fight moorland blazes in Lancashire.

Area manager for service delivery, Chris Kirby, said: "We have now had such a long period of sustained sunshine that the vegetation is tinder dry and will burn very rapidly should it come into contact with a heat source such as for example a barbecue.

"Fires like these are not only labour intensive to fight but they also have the potential to spread and pose a risk to property and people.

"The fire severity index is an assessment of how severe a fire could become if one were to start. This is currently mapped at 'very high' for England and Wales.

"We cannot stress our fire warning strongly enough and we do need the general public to be more vigilant and take extra care when enjoying the moorlands or the countryside.

"Small embers or sparks from barbecues, or even carelessly discarded cigarettes, can be all it takes to start a small fire which can very quickly become a large fire and the consequences could be devastating."