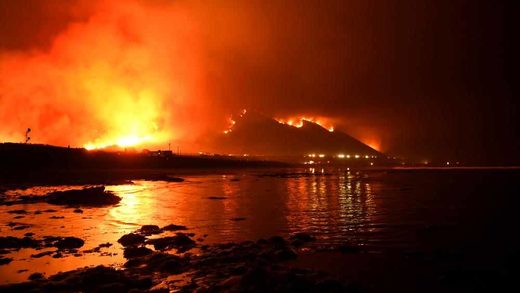 There are at least
six active wildfires burning in Southern California
right now.
That's nearly the total of all large December wildfires from 2000 to 2015
, according to
Cal Fire statistics
.
The map below shows active fires as of noon, Dec. 6.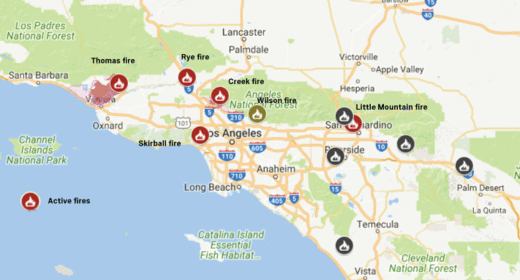 If you look at the statistics below, they show a mere seven California fires that burned more than 300 acres when totaling December numbers from 2000 to 2015. The second lowest months were January and February with 11 such wildfires.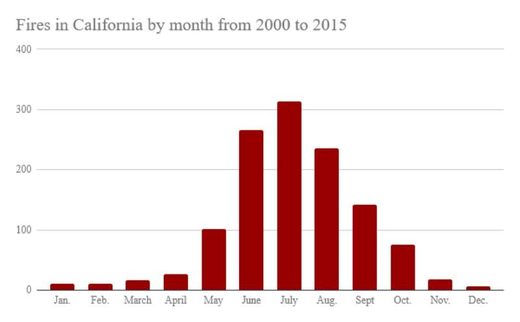 July had the most fires between 2000 and 2015 with a total of 313.
Of the seven fires in December from 2000 to 2015, four were in Southern California and two were in Ventura County.
The total acres burned in those seven fires was 21,090. The fire burning right now in Ventura County, called the
Thomas fire
, is estimated to have already burned 65,000 acres - almost three times the acreage of the other December fires. The previous largest fire in December was the Shekell fire in Ventura which burned 13,600 acres in 2006.
Even before the start of this week's fires, this year was going down as
the most destructive wildfire season in California history
, state officials said.
From Jan. 1 to Dec. 3, there were 6,762 fires that destroyed 505,391 acres. That's 43 percent more events for the same time period last year, when 244,297 acres were destroyed, according to Cal Fire.
"Fuel. Ignition. Meteorology. Each component of the formula are off the charts this year," said Bill Patzert, a climatologist for the Jet Propulsion Laboratory. "When all three elements in the equation are supersized, you're set up for apocalyptic conditions."
California is not alone in feeling the pain.
In the U.S. Forest Service's 2017 briefing to Congress in October the agency said that the fire season was the most costly across the nation.
U.S. Secretary of Agriculture Sonny Perdue said, "As wildfire costs exceed $2 billion, I appreciate those in Congress who recognize this funding issue and are working to make a permanent fix that allows us to manage our forests preemptively. While we can't stop these wildfires, we know we can be prepared in a much better way."
Wildfire suppression for the Forest Service costs for the fiscal year exceeded $2 billion, making it the most expensive year on record.