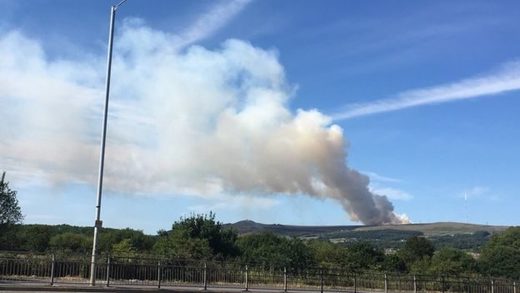 Around
60 firefighters and 15 fire engines
from Lancashire and Manchester fire services have been scrambled to Winter Hill to tackle another fire on Rivington Moor. Lancashire Fire and Rescue Service (LFRS) got the call
around 4pm
of smoke coming from the Winter Hill area - with
the plume visible for more than 20 miles
in Preston, Wigan, and Manchester.
With the Hill being on the border between both Lancashire and Greater Manchester, fire crews from both services were called to the scene.
John Taylor from LFRS said: "We are going up to 15 fire engines and their crews. It's a 50/50 mix of Greater Manchester and Lancashire services. "We're trying to get as much water on to the fire as possible. I am stood by the mast [at Winter Hill] and the fire isn't endangering that.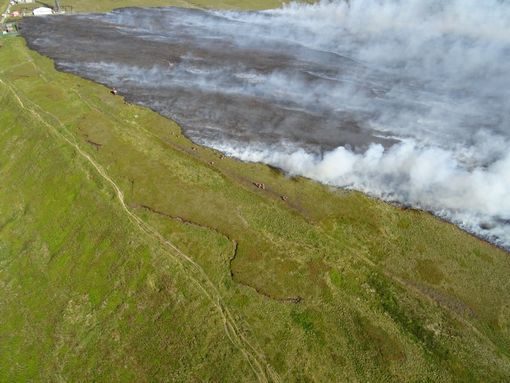 Wind is blowing flames away from it. "There's a considerable plume of smoke that is headed out towards the coast.
"We would advise anyone that can see the smoke to shut their windows to stop exposure."
As for the cause of the fire, Mr Taylor added:
"It's too early to say - as with the earlier Rivington fire and the fire at Saddleworth a number of causes could be applied
, such as a disregarded cigarette.
"We would discount spontaneous combustion as

it isn't that hot.
It is most likely some kind of human contact."
Fire crews from Fulwood, Rawtenstall, Darwen and Hyndburn have been dispatched.
The crew from Fulwood is acting as a command unit for all communications due to a significant amount of Greater Manchester's resources being used to tackle the blaze near Saddleworth Moor.
A spokesman from Lancashire Police confirmed that a police helicopter is at Winter Hill to tell people to stay away from the area. They said: "Our role is to support the fire service." Chorley Council are also working with fire services.
A spokesman said: "We are working with the emergency services regarding the fire at Winter Hill we will keep everyone updated as it progresses."
They added: "We will relay the safety messages around people staying away from the area. "There are some health messages that Public Health England gave out yesterday about the Saddleworth Moor fire which will be relevant."
A spokesperson for United Utilities, who own the land, said: "Our Rivington estate team are assisting the fire service and we ask members of the public to keep away from the area affected."