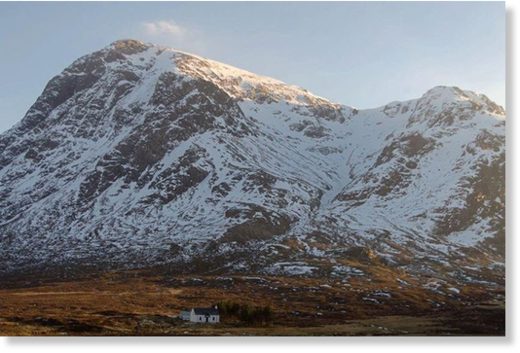 Up to two weeks of freezing temperatures could lie ahead due to unusual polar conditions.
Scotland is facing its coldest spring for 39 years, forecasters have warned.
The country is on course for a severe cold snap with snow expected on high ground over the coming days.
The Met Office have warned that up to two weeks of freezing temperatures could lie ahead due to unusual polar conditions.
The phenomenon, known as a Sudden Stratospheric Warming (SSW), saw a warming of usually colder air over the North Pole last month.
It will move bitter low-level Arctic conditions south to chill Scotland.
The effects could last until well into next month.
An SSW in March 2013 led to Britain's coldest April for 24 years and lasted until June.
The conditions mean Scotland's snow resorts plan to ski into the summer.
All five resorts - CairnGorm Mountain, Glencoe Mountain, Glenshee, The Lecht and Nevis Range - remain open.
The Weather Outlook forecaster Brian Gaze said: "Spring looks cold for Scotland and further chilly spells are possible.
"Colder air could be pulled in from the north-east during the next few weeks."
A Met Office forecast warned: "From April 21 to May 5, signals suggest temperatures around or below average."
The Met Office said: "Sudden Stratospheric Warming disrupts normal westerly winds in the stratosphere.
"This is associated with persistent easterly and north-easterly winds bringing cold air over the UK."
Their April to June forecast said: "The SSW in February very likely gave a strong impetus to recent cold spells and its influence is expected to continue in the early part of the outlook period.
"This implies increased chances of weather patterns bringing colder than average conditions."
Meanwhile, it emerged transport authorities scrambled to order an extra 100,000 tonnes of road salt to prevent running out last month.
Figures from the Scottish Government covering salt held by Transport Scotland, councils and in reserve, show a record 720,535 tonnes have been spread this winter, beating 2012-13's 691,000 tonnes.
Extra orders had to be placed after Scotland had only 622,723 tonnes of salt in reserve on December 12.
It comprised just over 500,000 tons in stock with more than 100,000 tons spread by that point, the Scottish Government's Salt Group situation reports reveal.