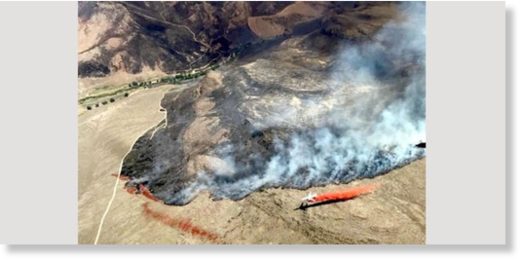 The Bureau of Land Management says the Martin Fire has expanded into Elko County. It was last reported at Monument Hill going towards the Desert Road Reservoir, and is currently threatening several homes and other pieces of land in its path.
The Martin Fire is burning about 48 miles northeast of Winnemucca and has burned 164,971 acres and 2% contained as of Saturday according to the Central Nevada Interagency Dispatch Center.
That is 258 square miles, and almost double its estimated size on Friday. .
Wind gusting to 35 mph and highly flammable cheatgrass and sagebrush are pushing the fire, said Norm Rooker, fire information officer for the Martin Fire. There were no heavy snows this year to push down the cheatgrass, so it is standing tall and there is more than 200 percent of the normal amount.
We're calling it gasoline on a straw," Rooker said.
All the factors are allowing the fire to preheat vegetation as it moves along, helping it burn more quickly. More heat is expected on Sunday.
Containment was originally predicted for Monday but now the fire is not expected to be contained until July 18.
The fire was reported shortly after midnight the morning of July 5, 2018. No cause has been determined. There are no reports of injuries or structures damaged, but the Paiute Pipeline that carries natural gas through the area is a concern, according to the Bureau of Land Management.
Crews from the Bureau of Land Management, the U.S. Forest Service, the Nevada Division of Forestry and volunteer firefighters are fighting the fire.